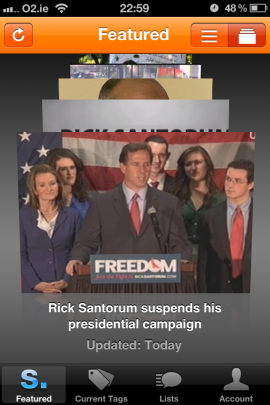 Storyful, a service that separates news from the noise of the real-time web, has released an iPhone application. Last month, Storyful released Storyful Direct for iPhone, an application that allows citizen journalists to easily submit media content to Storyful for verification.
The app allows readers to keep up-to-date with breaking Storyful news stories and browse its news archive by tag. StoryfulPro account holders can login to the app and browse the most recent verified video content, story contacts or sources and story context.
Storyful, an Irish startup founded in April 2010 by well-known journalist and presenter Mark Little, has a professional team of journalists that discover, verify and curate stories on social platforms like Twitter and Youtube on a daily basis. They act as a "social media field producer" to various news organisations around the world, finding big stories fast and identifying "credible sources close to every story".