Radio, not YouTube, is vital for discovering new music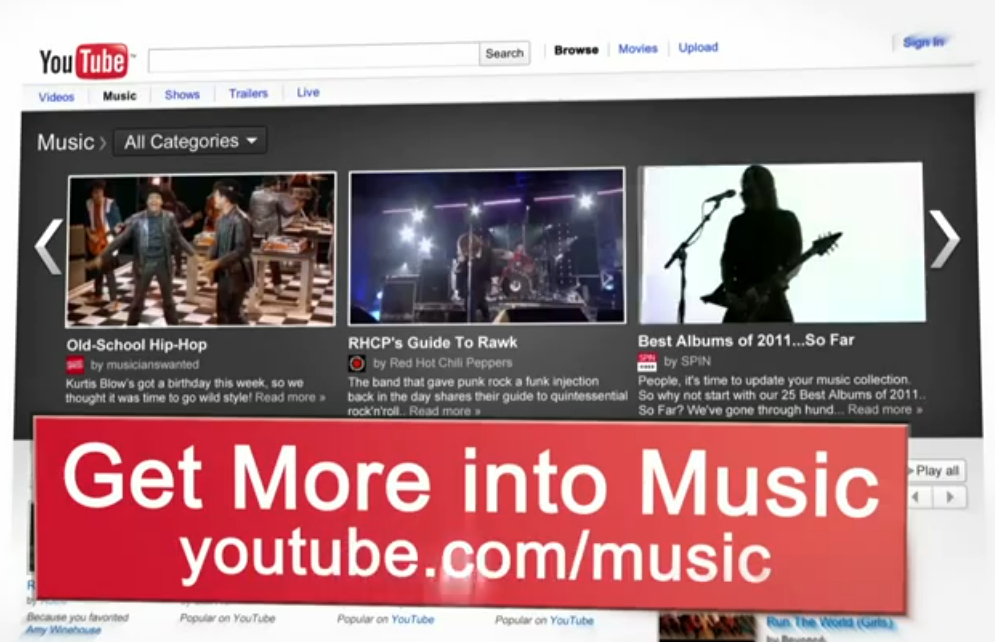 Exactly a year since Google relaunched its YouTube Music discovery platform traditional systems like radio and word-of-mouth are far more powerful music discovery tools than the video site, according Nielsen's latest Music 360 report.
In fact, Nielsen's data reports that YouTube is doing a terrible job as a discovery platform for new music.  The site comes third, after Radio and word-of-mouth, with only 7% of those interviewed saying that the site was their primary means of discovering new music.  Radio was well in the lead with 48% of respondents saying it's their primary medium for discovering music. Word-of-mouth came second with 10%.
That said, it's not all bad news for YouTube, while users discover more music via Radio, they listen to more music on YouTube – this suggests that users will listen to tracks and artists they know and like on YouTube but use radio to find new ones.  Some 64% of teens use YouTube to listen to music, followed by 56%, who listen to radio; 53%, who listen to iTunes; and 50%, who listen to CDs (since the respondents can use multiple methods to discover music the results don't add up to 100%).
Musical Choice
Nielsen's Senior Vice President of Client Development, David Bakula, said the results of the survey indicate the wide expansion of music sources now open to the public; "While younger listeners opt for technologically advanced methods, traditional methods of discovery like radio and word-of-mouth continue to be strong drivers.  With so many ways to purchase, consume and discover great new music, it's no wonder that the consumer continues to access and enjoy music in greater numbers."
Looking at the finances, users are more likely to purchase music if it has been recommended to them by a friend.  Some 54% of respondents said they would be more likely to buy music from a friend's recommendation but only 25% said they would buy tracks if recommended on music review sites or message boards.   Brands are even less likely to influence a user's purchasing decision, with only 12% saying they could be swayed by such recommendations.
Sharing Music and going mobile
As for sharing music only 8% of those interviewed said they share their musical choices on the social web and even fewer, 6%, admitted to uploading music to websites.  Even though users are now more likely to buy music than ever before there is still a preference for free over paid content.  The study reports that 54% of those interviewed had music playing apps on their smartphones and 47% had radio apps but only 26% had music store apps on their phones.
It's been a year since Google relaunched its YouTube music discovery platform in an effort to promote legitimate music uploads to the site. In spite of regular charts and editor-selected music YouTube is not yet the primary music discovery tool.
Google's 2011 Music promo.
Death of the CD
Not surprisingly, few teenagers have purchased a CD in the past year but over 50% of them have purchased music downloads.  The reason for this, apart from being more convenient, is that many see digital downloads as being better value than plastic music.  Only 55% see CDs as being good value, compared to 63% for downloads.
This result is hardly a surprise to physical music retailers such as HMV, which have seen a sharp decline in CD and other physical media sales in recent years.
Nielsen's survey collected the data from 3,000 consumers in the US as part of its Music 360 platform.
Tags :
cd
discovery
Google
hmv
music
nielsen
radio
traditional media
YouTube