Read more of The Sociable in September's issue of Click Magazine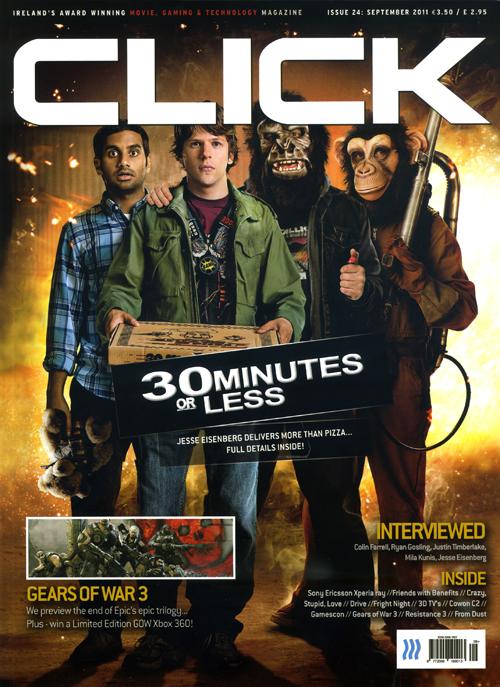 Credit: Click Magazine/Sony Pictures
If you are looking for even more Sociable goodness this month than pop down to your local newsagents and pick up a copy of September's edition of Click Magazine (Facebook | @Clickonline_).
In this month's issue of the mag we let you know how to secure your Facebook account and disable automatic image tagging.  We'll also give you a bit more info about Apple's proposed new HQ and show you what Google Ireland has been doing outside their Dublin headquarters with Street View.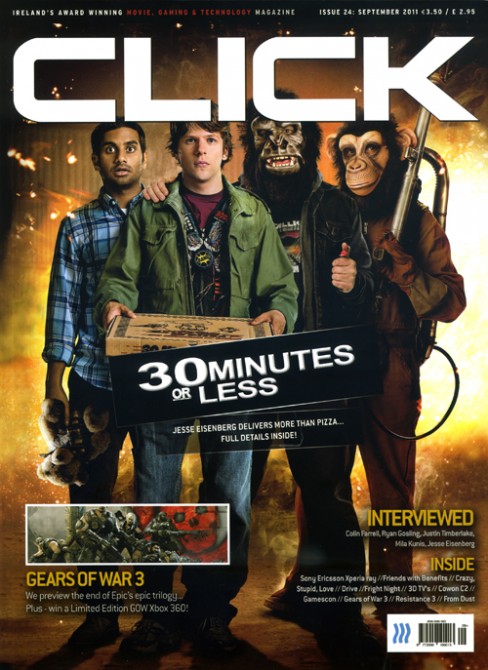 This month Click, which has a great new design, features The Social Network's Jesse Eisenberg's latest film, 30 Minutes or Less, including an interview with star.  Click also interviews Fright Night's Colin Farrell, Craig Gillespie, and Anton Yelchin (which Dublin's Movie Fest attendees got a sneak preview of last month) as well as Crazy Stupid Love's Ryan Gosling.  Reviewed this month are Juntin Timberlake and Mila Kunis's vehicle Friends with Benefits, as well as The Change Up, and the latest Final Destination.
Click's Peter Nelis takes a look at the Canon Ixus 1100 HS, Glenn Sweeney reviews the HP Touchpad, and Daniel Anderson reviews Samsung's amazing D8000 3DTV. Gadgets also up for review are Sony's latest Cybershot DSC W350 and Samsung's ST30.
Games-wise Click has a full feature on GamesCom 2011 and previews of Assassin's Creed: Revelations, and Need for Speed: The Run. Peter Nelis also has a great interview with Marcus Smith the creative director of Resistance 3.
Issue 24 of Click Magazine is out now.
Tags :
Apple
assassin's creed: revelations
canon
click magazine
games
games com
Google
google street view
hp touchpad
Ireland Technology News
movie fest
movies
print
samsung
Sony
sony cybershot
the sociable news
the social network