Fears Iceland's Grimsvoetn volcano eruption may disrupt flights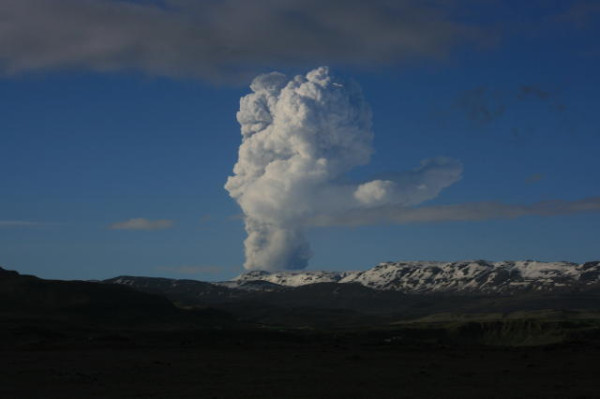 Grimsvotn volcano ash cloud via @hjortur
Just over a year after Iceland's Eyjafjallajökull volcano grounded thousands of flights across Europe another volcano, Grimsvoetn (gossvæðið), has erupted.
It is not yet know if this new Icelandic eruption is likely to cause similar travel cahos as was seen in 2010 when 10 million passengers were stranded across Europe and the world.
Already Iceland has placed a no-fly-zone for 20km/120 miles surrounding the volcano and the cloud as reached 12km in height since the eruption late yesterday. At the moment winds are carrying the ash cloud north, away from Europe, although experts in London's Ash Advisory Centre are monitoring the situation.
While signs suggest that there will be little flight disruption EuroControl, the Europe-wide air safety network, and the Icelandic Met Office are striking a cautions tone saying that there is no threat to flights yet but it is too early to tell what the full impact could be.
Grimsvotn volcano has erupted – no threat to air travel yet. We'll keep u informedhttp://ow.ly/1t5Lgy #ashcloud via @bbcnews

— EUROCONTROL (@eurocontrol) May 22, 2011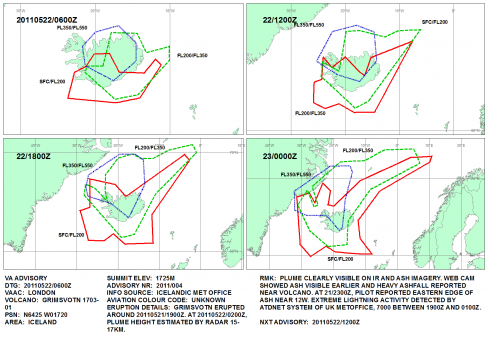 This image, recorded at 6:46 this morning shows the massive ash cloud moving away from European airspace.

An air passenger posted this video of the rising plume from their plane's window.
Meanwhile @hjortur posted one of the first images of the eruption on Twitter.
The first picture of the plume rising above @grimsvotn volcano in Vatnajokull. Image from Hotel Nupur.http://twitpic.com/50pgcp

— Hjortur Smarason (@hjortur) May 21, 2011

View Grimsvoetn volcano, Iceland in a larger map
The Grimsvoetn volcano (highlighted in red on this map) is located to the North-East of Eyjafjallajökull (highlighted in blue).
The 2010 eruption caused the largest peacetime grounding of flights in world history. A recent report into the 2010 eruption found ash from the Eyjafjallajökull volcano could have caused severe damage to aircraft if air craft had been allowed to fly.
Tags :
ash advisory centre
eurocontrol
Eyjafjallajökull
flights
Grimsvoetn
iceland
london
Twitter
Video
volcano
YouTube