Turn your iPhone or Android into a walkie-talkie with Voxer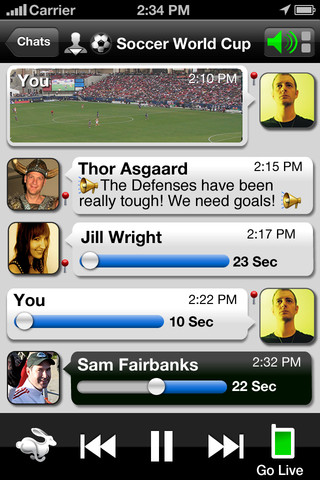 Voxer, a relatively new mobile app that lets you turn your iPhone or Android into a walkie-talkie has been gaining traction over the last few days, rocketing in popularity on the App Store and Android Market.
Once downloaded for free, users can synchronise the app with their existing phone's address book or Facebook friends. If any of your contacts have the app already installed, you can start chatting right away.
Similar to walkie-talkies, users of the app hold a button to send short audio messages to a specific contact or group of contacts, which are then played-back on the receiving device or devices. There is even an option to listen live to an incoming message.
The app also supports more traditional forms of communication like text messages and picture messaging, along with sending audio clips.
Growth on this scale (undoubtedly helped by the release of the Android version earlier this month) for such a small app is quite unusual so this is definitely one to watch. Who knows, maybe audio messaging will replace the humble text message?
Tags :
Android
app
cb radio
communication
iPhone
mobile app
voxer
walkie-talkie