Web meme sends thousands of get well wishes to Steve Jobs via #getwellsteve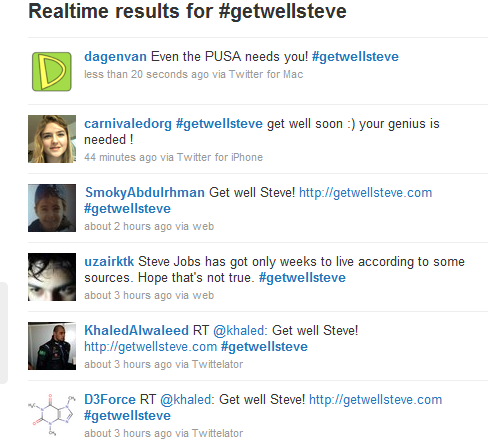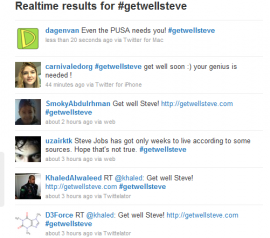 It has been a month since Steve Jobs announced that he would be taking a back seat in Apple's day-to-day operations to concentrate on his health.
In that month thousands of web users have been sending the Apple CEO their best wishes via Twitter, Facebook and other mainstream websites.
The most prominent website, GetWellSteve.com, which was created on February 7, has already generated over 1,600 tweets and over 800 Facebook messages.
Messages posted on the site and on Twitter, with the hashtag #getwellsteve, wish Jobs a quick recovery, although, some seem more resigned to the sevirity of Jobs' illness.
One commenter, Matt Butson said, "I would like you to stick around so that I could see you at the top. Seriously. Get well mr. Jobs… You still have another good 1/4 life left."
Twitter user @lillesoe said,
Get Well Steve! We need you to continue your fantastic work with Apple. All the best to you and your family! #GetWellSteve

— Jesper Lillesø (@lillesoe) February 19, 2011
@snorrem caught the mood of the community in a tweet posted on Saturday,
Doubt any CEO other than Steve Jobs will ever see a crowdsourced get well card quite like this:http://getwellsteve.com/#getwellsteve

— Snorre Martinsen (@snorrem) February 19, 2011
All messages posted on the site will be delivered to Jobs for his birthday on February 24.
Meanwhile, hundreds of other sites, blogs and updates have been wishing Jobs well since the announcement of his step-back from Apple's day-to-day business.
Steve Job's health has been a matter of increasing concern and interest. His attendance at the White House meeting at the invitation of President Obama with other modern technology luminaries has caused some to see the event as a farewell dinner as well as a celebration of modern technology.
Tags :
#getwellsteve
Apple
health
iOS
iPad
iPhone
ipod
itunes
meme
president obama
steve jobs
tech