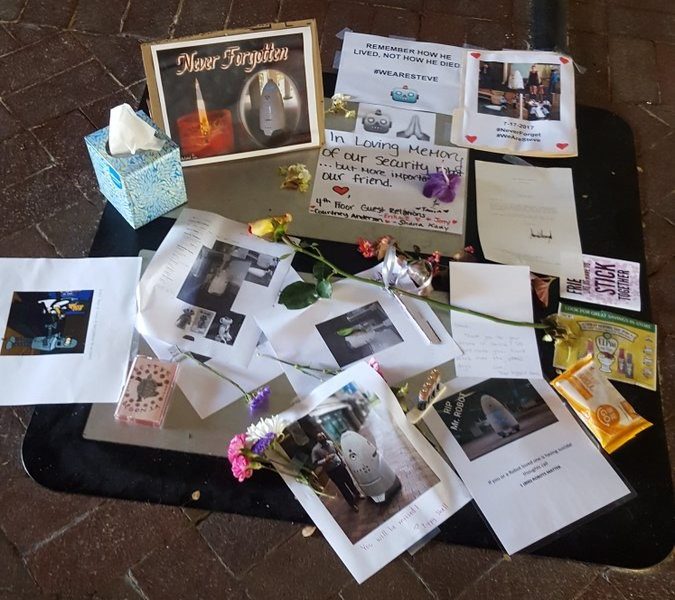 An impromptu memorial is setup to commemorate the suicidal robot that wandered into a DC fountain, expired, and went to meets its maker.
Even before Kevin James' overweight, mild mannered Mall Cop was released, the life of security guards never quite lived up to the uniform.
The job may have proven to be too much for one little security robot who was found floating in a fountain by an office building in Washington DC.
Perhaps it was searching for the Fountain of Youth, but like Ponce De Leon, it met with a bitter, albeit flam-BUOYANT, end.
The unfortunate robot, made by Knightscope, quickly became an internet celebrity on social media. Users posted a number of comical tweets highlighting our disappointment regarding modern technology.
Our D.C. office building got a security robot. It drowned itself.

We were promised flying cars, instead we got suicidal robots. pic.twitter.com/rGLTAWZMjn

— Bilal Farooqui (@bilalfarooqui) July 17, 2017
Peter Singer, the Author of Wired for War –– a book about military robotics, chipped in with his observation, "Steps are our best defence against the Robopocalypse" — notably an old tactic you could use to avoid Doctor Who's evil Daleks.
Other users were quick to point out the resemblance between this robot's potentially unbearable existence with that of Marvin, the depressed robot in Douglas Adams' famed novel The Hitchhiker's Guide To The Galaxy.
Now, a memorial has been setup in its honor.
This is the memorial for Steve the drowned security robot outside our office on his charging pad. The future is weird. pic.twitter.com/Pb7KLay1VO

— Oliver Griswold (@originalgriz) July 19, 2017
This is not the first issue this little robot has encountered while on duty. Previously the robot was suspended after running over an infant in California which caused a bruised leg.

The little guy also had a run in with a drunk man that assaulted the poor security guard. However, its quick reactions and alarms helped draw attention to the suspect, resulting in his apprehension.

Despite the below optimistic Knightscope video highlighting the benefits of our little security robot, it looks unlikely that intimidating robocops will be patrolling the streets anytime soon. Now onto the more important issue of "Where's my flying car?!?!"

<!-comments-button-->