Vaccines can serve as multiuse technologies that have economic and national security considerations, according to a RAND report.
The report, "A Brief Overview of Emerging Vaccine Technologies for Pandemic Preparedness," says that the importance of new types of vaccine manufacturing go beyond health and into the realm of international relations and national security.
According to the report, "the multibillion-dollar vaccine industry contributes greatly to many nations' economies. The industry boosts scientific innovation and collaboration, allowing opportunities for greater partnerships between researchers, academics, and industry partners, both internally and with allies."
With that in mind, "Manufacturing vaccines can also provide opportunities for vaccine diplomacy: Donating vaccines to less developed nations is a form of soft power that achieves goodwill in other countries."
On the national security front, the authors say that "Vaccines can also serve as multiuse technologies. Some types of vaccine development can help reduce the impact of noncommunicable diseases, such as diabetes or specific types of cancer" while "Others may protect against biological attacks that could be launched against either the civilian population or armed forces personnel."
The report lists four emerging vaccine concepts that may serve as multiuse technologies:
mRNA vaccines: are paving the way for new vaccines that are quicker and easier to modify and develop against emerging viruses; are also being used in the development of treatments for non-infectious diseases, such as cancer.
nanoparticle (NP) vaccines: may eliminate the need for vaccines to be injected, enabling them to be administered intranasally or through an inhaler.
viral-like particle (VLP) vaccines: a subset of NP vaccines, do not have any viral genetic material but are made with virus-like molecules that mimic the virus.
universal vaccines: can counter multiple variants of a specific disease; can trigger an immune response by displaying a specific protein presented by multiple variants of that disease.
Addressing so-called vaccine hesitancy was also an issue in the report, which questioned the effectiveness of COVID-19 "vaccines" coming out of China and Russia, but not the ones coming from the United States or anywhere else.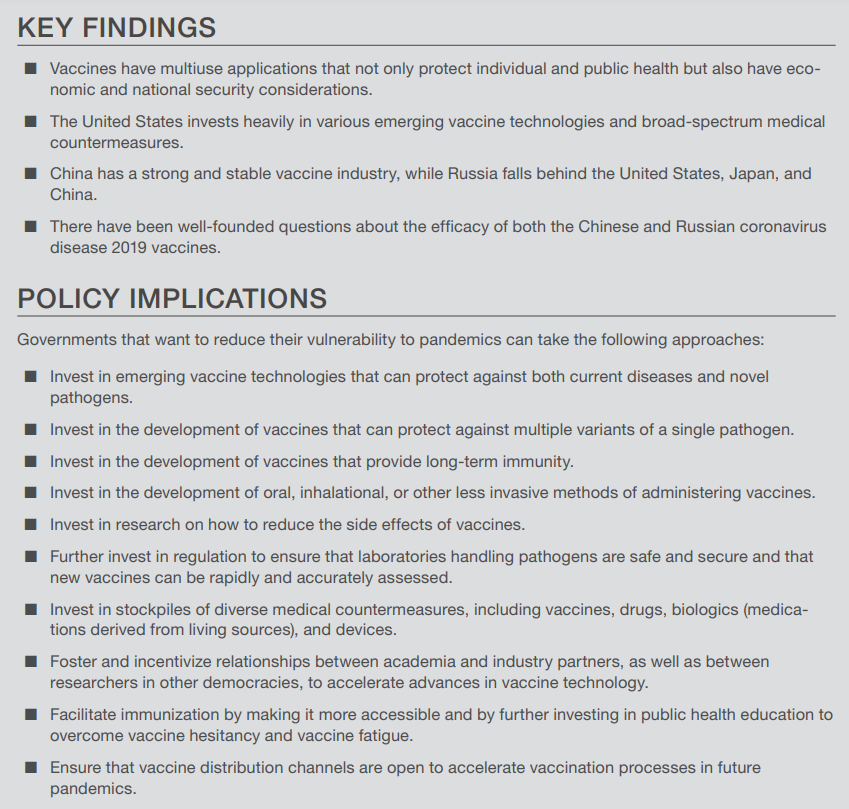 The reasons listed for so-called vaccine hesitancy include
Ideological beliefs
Concerns about the safety of vaccines
Questions about their efficacy
Dislike of injections
Fear of side effects or complications
The inconvenience of getting to a provider
Cost
To counteract some of these concerns, the RAND report suggests that:
Enabling vaccines to be delivered orally or via inhalation can make people more receptive to being vaccinated
Diminishing the side effects of vaccines could also increase willingness to receive them. However, there is little current investigation of ways to lessen the side effects of vaccines
Documenting vaccine side effects and addressing concerns through education can also help address vaccine hesitancy
Nowhere in the report do the authors specifically mention governments and corporations mandating vaccine passports in order for people to participate in many aspects of society as a reason for "vaccine hesitancy."
However, they do mention that "a high degree of immunization can reduce the extent to which normal activities are curtailed during epidemics."
The RAND report also leaves out that the mRNA vaccines themselves were never proven to prevent transmission, nor were they even tested for preventing transmissibility, as was admitted by Pfizer reps in the EU Parliament.
The RAND report goes on to say that "advanced vaccines can enable people to continue working later in their lives and minimize the days lost to illness."
The research was intended to provide insights for Japan's National Graduate Institute for Policy Studies; however, the authors say that the "results of this research should be relevant to audiences beyond Japan."
The RAND report was sponsored by the National Graduate Institute for Policy Studies and conducted within the Acquisition and Technology Policy Program of the RAND National Security Research Division.
---
Image by Freepik