About 42 million Android devices were activated in December 2011 according to data analysed by The Guardian newspaper but the true population of active Android devices is still unknown.
Giving it a shot the paper says that this sets the global population of Android-powered devices at about 280 million activated devices, a bit higher than the 230 million devices the tech analyst Benedict Evans calculated yesterday.  Evans says that while Google is cagey about revealing the number of active Android devices they have revealed some clues. At the end of November they said there were 200 million activated devices.  We also know that in December an average of 700,000 devices were activated a day (up from 500,000 earlier in the year); together these suggest ~220 million Androids in circulation.  At the end of December Google's Senior Vice President of Mobile, Andy Rubin revealed a festive spike in activations with 3.7 million Android devices activated on December 24 and 25 (along with about 3.1 iOS devices).
The Guardian's figures come from data on Android's website, which was last updated on January 3 2011.  According to these numbers about 55% of Androids are running Gingerbread (Android 2.3+), about 30% of the devices are running Froyo (2.2) and about 10% are running earlier Android versions.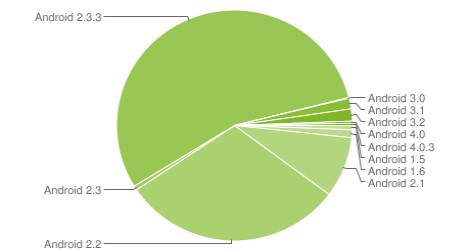 Using this data The Guardian estimates that between 1.3 million and 1.7 million Galaxy Nexus devices are active.  The paper also estimates that 3.5 million Android tablets were activated in December bringing the total population to about 7 million.  This is likely to be disappointing for Google which is losing ground to Apple's iPad and Amazon's Kindle Fire (which is Android powered).
Amazon itself reports that its Kindle Fire tablet was the best selling item on the retail site in December; in the US alone the Kindle Fire was the "#1 best-selling, most gifted, and most wished for product across the millions of items available on Amazon.com since its introduction."  The company says about 4 million Kindles were bought in December, the majority of which were Kindle Fires.
But Google hasn't lost yet: the company has promised to release a flagship Android-powered tablet "of the highest quality" in the next six months. We already have hints that this will be a 7 incher and retail for less than the Kindle Fire.
While Google's entrance into the tablet market might be disappointing (although these are early days) the Android OS is performing well against Apple's iOS which, as of November, was installed on 250 million devices.