Boasting is such a terrible quality but Amazon just couldn't help themselves, and we can't blame them.  In an epic, 2,069 word press release today Amazon said the site sold "hundreds of millions of units worth billions of dollars worldwide" this Christmas.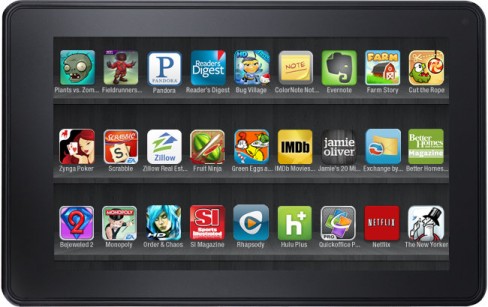 But never mind that, Amazon wants to tell you about the amazing Christmas that Kindle had.  The company says that Christmas 2011 was the best ever for their Kindle eReader, the first of which was released in 2007, and for the Kindle Fire, which was released in September.
Amazon reports that over 1 million Kindle devices were sold each week in December.  This made the Kindle Fire, Kindle Torch, and the Kindle held the number one, two, and three slots on Amazon's overall bestseller list.  But that's not all, the Kindle Fire was also on top of Amazon's UK, French, German, Spanish, and Italian sites.   In the States the tablet was the "#1 best-selling, most gifted, and most wished for product across the millions of items available on Amazon.com since its introduction 13 weeks ago."
Like the stats released by Flurry this week Amazon reports that Christmas Day was the day for digital downloads.  More Kindle ebooks were downloaded on Christmas Day in 2011 than for any other single day before.  But we weren't just downloading books for ourselves on the big day, the number of gifted Kindle ebooks increased by 175% this holiday season.
The numbers decoded
Tantalisingly the site says that 44% more companies on Amazon earned over $5,000 this festive season but they don't say how many companies that is.  Amazon has released some cryptic clues to how many products were sold this year, here's our attempt to decode them.
Enough toys were sold to give one to each person in Chicago (by our math that's 2,896,016 toys sold by third party retailers).
On Amazon.com "customers purchased enough copies of Walter Isaacson's 'Steve Jobs' book to create a stack taller than Mt. Everest" (the book is 1.9 inches thick so if our calculations are correct that's about 183,000 copies).
Amazon says so many copies of Just Dance 3 were sold that "15 copies [could be given] to each person who participated in setting the world record for simultaneous dancing" – that's about 360,000 copies of the game.
"Amazon customers purchased enough HeatMax HotHands Handwarmers to give a pair to each resident of Iceland."  So, that's about 1,316,000 handwarmers.
Top Sellers
Along with the clues Amazon lists the top sellers across the site's different departments. Amazon didn't give any numbers but here are some of the technology highlights;
Video Games
Just Dance 3
Call of Duty
Modern Warfare 3
Elder Scrolls V: Skyrim
Kindle Books
"The Hunger Games" by Suzanne Collins
"Catching Fire" by Suzanne Collins
"The Litigators" by John Grisham
CDs
DVDs
"Harry Potter and the Deathly Hallows, Part 2"
"Bridesmaids"
"The Help"
AmazonWireless
Motorola DROID RAZR 4G Android Phone (Verizon Wireless)
Samsung Galaxy S II Epic Touch 4G Android Phone (Sprint)
Samsung Galaxy S II 4G Android Phone (AT&T)
Amazon Appstore for Android:
Angry Birds (Ad-Free)
TETRIS
Pandora Internet Radio