AnchorFree, the makers of the extremely popular Virtual Private Network applications (VPN), Hotspot Shield and ExpatShield have released their first iOS app, and it's one you're probably going to want to download.
Following on from Lookout Internet Security, which released its own iOS app a few weeks ago, AnchorFree's Hotspot app has been designed to protect iPad/iPhone/iPod users' privacy.  The app works by encrypting the iOS's data connection when users are surfing or using another app.
The app itself works in the device's background and converts standard http requests to https requests – this is the kind of data protection your banking and financial websites use.  What this means in reality is that when using your iOS device, for example, over a public Wi-Fi connection devices on the same connection will not be able to snoop on data being transferred between your iOS device and the web.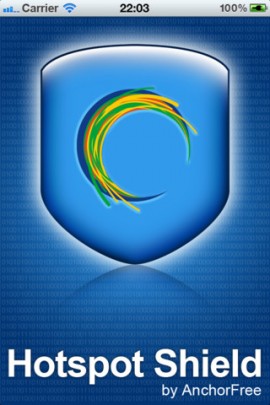 But the app isn't just designed for those looking for added security.  When installed the app uses bandwidth compression technology to reduce the amount of data iOS downloads from the web.
With this users can, according to the company, effectively double their carrier's download limits.  In fact, so confidant is AnchorFree that this feature will save users' money that the app shows the bandwidth saving in real-time.
Today the desktop application alone has about 10 million users and has developed a strong reputation over the past year, having been used by participants in the Arab Spring to anonymously access restricted websites.
AnchorFree's co-founder and CEO David Gorodyansky says the addition of the iOS app comes from customers' increasing use of mobile devices to access sensitive data, such as banking details, emails, social networking websites, etc, which they would previously only had access to on a (hopefully) firewall protected desktop or laptop.
Indeed, as users manage more and more private data online an increasing number of websites are adopting or providing https options.  Twitter, Facebook, and Gmail each now allow users to set secure connections on their accounts.  Google is at the moment rolling out https on search pages – much to the chagrin of SEO officers who will no longer be able to see search terms visitors used when landing on a website.
Back to the app; Hotspot Shield is in the iTunes App Store at the moment with a monthly subscription costing $0.99 or a yearly subscription at $9.99.  With one subscription users can protect multiple iOS devices at the same time.