With the Cyber-shot™ DSC-RX100 Sony reveals what happens when you place a high-quality lens, super-fast processor, and extra-powerful 20.2 megapixel CMOS sensor in the chassis of a point-and-shoot-sized camera.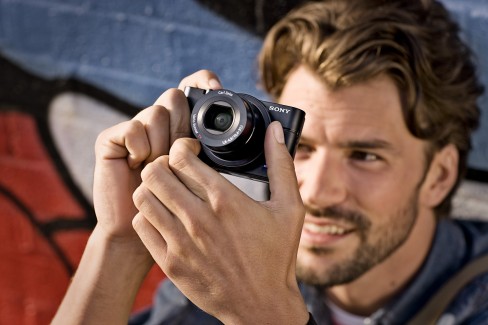 The Sony Cyber-shot DSC-RX100 is a camera of contradictions. With a Carl Zeiss Vario-Sonnar T* lens it produces richly detailed photographs but, as the company promises, it has the capacity to render visually pleasing lens blur, usually only possible with DSLR grad kit. Similarly, these artistic abilities lie at odds with the camera's "on-the-move" action-orientated target audience.
What you get in the end is a powerful compact camera with the capacity to please professional snappers and consumers.
It all starts with the custom-developed Sony sensor, which is four times larger than those found on other point-and-shoots on the market. This sensor is designed to capture more light and detail than its competitors and is complimented by an industry leading Carl Zeiss Vario-Sonnar T* lens. We've written before about our love of Carl Zeiss lenses on Sony cameras, so this combination is very much welcomed by us.
The Vario-Sonnar T* on the RX100 has a maximum aperture of F1.8, although this only comes with a 3.6x optical zoom – although if you're taking 20.2 megapixel photographs on a 1.0-type Exmor CMOS sensor what you can't zoom to you can easily crop, without any significant lost of detail.
Speaking of detail (or rather lack thereof) Sony boasts that this little camera has the ability to reproduce professional quality lens blur. That might sound like an odd claim for a manufacturer to make but it is important. Sony says that the camera has ability to produce professional "bokeh" (the artistic qualities of lens blur) which can add a great deal of depth to your photographs.
Sony combines this sensor and lens with its optimised BIONZ image processor, which promises to deliver "exceptionally clean, natural images." Expect to be able to take up to 10 full-resolution frames a second coupled with a lightening-fast autofocus of 0.13 seconds.
In low light the camera has an effective ISO of 25600, which it achieves by taking and combining half a dozen shots on top of each other to remove and reduce visible noise. This will allow you to capture action and detail when flash won't cut it.
Sony's final trick comes from its specially-developed NP-BX1 Type X rechargeable battery which should provide enough juice for 330 shots or 80 minutes of AVCHD video.
Overall, the Cyber-shot RX100 promises to push Sony's Cyber-shot range further ahead of its competitors. The camera will be available in Europe from mid July 2012.