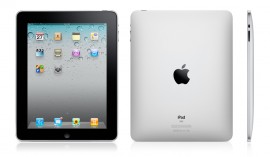 Unconfirmed reports suggest that Apple's second generation iPad will be released in February 2011.
Reuters reports that sources in Foxconn Electronics, manufacturers of the iPad, say the device will begin mass production at the start of the year. Initial shipments are expected to be in the region of 400,000-600,000 devices.
Apple has reportedly sold over 10 million iPads since the launch of the portable in computer in April, with over 5 million expected to be sold this quarter.
Apple is yet to confirm the rumor.