Patrick Leddy is founder and CEO of Furious Tribe, an internationally visible mobile applications development and strategy company with offices in Dublin, London and New York.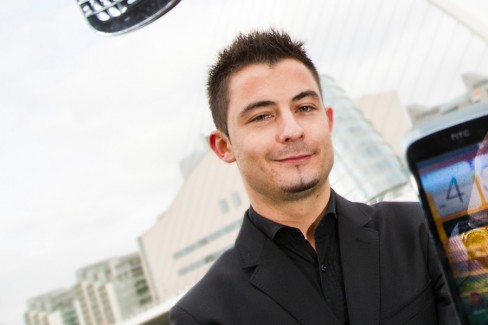 Recently Furious Tribe forged an exclusive partnership with Vodafone, Ireland's largest communications provider, to bring mobile consultancy services to Vodafone business customers, but also to develop custom mobile strategies, and build and deploy specific mobile solutions.
We quizzed Patrick on this partnership, the importance for enterprise in developing a mobile strategy and on Furious Tribe's ability to be a stand-out company.
How important is it for businesses to develop a mobile applications strategy? What are the implications for businesses who ignore this?
I think it is essential for all businesses to develop some kind of mobile strategy, it doesn't have to be centered around applications though. In fact, small businesses are far more suited to tailoring sites for mobile than building applications. Mobile apps typically cost more to develop and facilitate a richer user interaction, whereas mobile sites are relatively inexpensive to develop and can simply provide product or location information about a business. In 2012 when your customers are constantly on the go, it makes perfect sense for companies to reach out and engage them in a mobile way.
The number of smartphone subscribers has begun to equal the number of feature phone subscribers in certain parts of the world, namely the United States. Could 2012 be described as the "tipping point" at which a strategy in mobile becomes a requirement for businesses, especially for those involved in retail?
I definitely think 2012 is the year of the mobile device, it's certainly true that smartphones have matched feature phones in western nations, but you can't ignore the continued growth of the feature phone in India and parts of Africa. The fact is that mobile subscriptions are increasing worldwide, and to remain competitive companies will need to engage on mobile platforms, regardless of whether it's a feature phone or a smartphone.
Why have you decided to provide a specialised consultancy service with a partner like Vodafone?
From the beginning, Furious Tribe has been providing a specialised consultancy service that helps leading brands to develop mobile strategy and engage with their customers. Our recent partnership with Vodafone aligns with our vision for the way mobile will be adopted in enterprise. Working in close consultation with Vodafone we aim to create the next wave of mobile experiences that help businesses deepen the relationship between their brand and customers.
What makes Furious Tribe a stand-out company? Its ability to deliver cross-platform apps or the unique content management platform Apptivate?
Furious Tribe has a number of unique selling points. Firstly we offer mobile strategy and then combine this with award winning user experience abilities. Another key competitive edge is our unique Apptivate platform that produces cross platform mobile apps and allows our clients to maintain them after launch.