The past two years of employee turnover have been historic with large-scale job resignations occurring one after the other—showing that an evolution in the work world is far overdue. In Fact, in Deloitte's "2023 Global Human Capital Trends" report, which included more than 1,500 C-suite executives and board members, the majority of respondents recognized the boundaries that have traditionally governed the rules of work are dissipating.
As a result, a paradigm shift is occurring in the way jobs are organized, where work happens, and who qualifies for specific roles. This week's Connect event by Publicize brought together startups that are looking to patch some of the disparities that are being seen in the current career marketplace and create solutions to build a better future of work.
As organizations look to define a new set of metrics for success, businesses of every shape and size are looking to understand the best practices when it comes to talent sourcing and retention. Let's take a look at some of the most noteworthy companies that are providing solutions for this very effort in the emerging 2023 career market.
Data insights will drive business outcomes
According to the same Deloitte survey from above, only 23% of workers believe their leaders have the capabilities to navigate today's disruptions. That gap is likely due to looking at work and workers and their role in a company's ecosystem through an antiquated lens.
This makes data on employees, and their human capabilities and unique skills imperative. In fact, according to McKinsey, when it comes to talent searching, focusing on skills helps companies find and attract a broader pool of talent—helping to find candidates more suited to fill positions for the long term.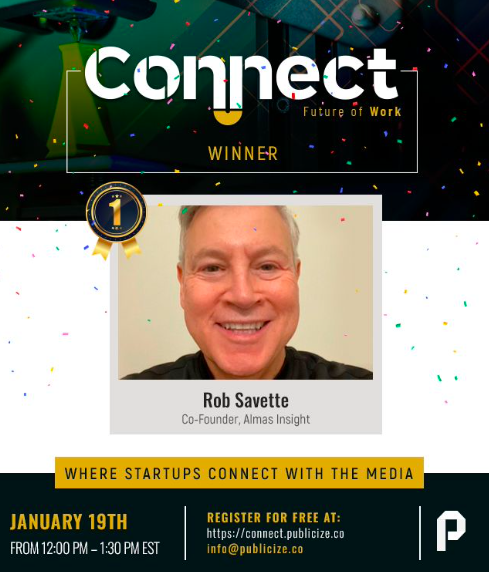 This week's Connect winner, Almas Insight, is a company aimed at helping businesses do just that by offering a cutting-edge method for incorporating objective, human-driven data into the management of a company's staff. The Almas analytics platform assists businesses in identifying areas where employees and candidates are a good fit, identifies high performers, creates more effective professional growth programs, and helps businesses better understand workforce turnover. The company does this by providing a state-of-the-art, immersive, game-based approach that blends contextual video, situational simulation, and cognitive testing—measuring more than a dozen in-demand human capabilities. 
The two runner-ups in Connect: Future of Work, were also focused on leveraging technology to get insight into working experience and productivity. Gramener is a design-led data science company that helps solve complex business problems with compelling data stories using insights and a low-code analytics platform. They are a company focused on helping enterprises large and small with data insights and storytelling through a variety of innovations. Lara.AI looks to help companies have continuous conversations with their collaborators. They aim to generate People Analytics in real-time, automate tasks and send hyper-personalized communications through a conversational Artificial Intelligence interface.
According to the Deloitte trends report, 83% of executives believe that rethinking the boundaries which dictate worker data is important for their organization's success. This is a notable departure from traditional data models characterized by organizational control and shows the importance of companies such as these that help to glean people-centric data in an objective way.
Forging a more tenable workforce
With voluntary employee turnover costing U.S. businesses $1 trillion each year, worker acquisition and retention should be at the top of every business leader's agenda. As we redraw the map of the career marketplace, the workplace is calling on leaders to evolve with their workforces.
This is evidenced by 94% of c-suite executives saying they believe leadership capabilities and effectiveness are important to their organization's success. Clearly, the future of work is at the crossroads of man and machine—and data will be key for businesses across industries to understand how to enter this crossroad with clarity and confidence.
Tune into the next connect event, Connect: SaaS, next Tuesday, January 31st from 12:00-1:30 PM EST, which will bring together leading members of the media with some of the most innovative startups within the SaaS Industry. 
Disclosure: This article mentions a client of an Espacio portfolio company.