For a news site call The Sociable you know we're interested in making news more social.  So what could be better than becoming a featuring Flud partner (@fludapp | Facebook)?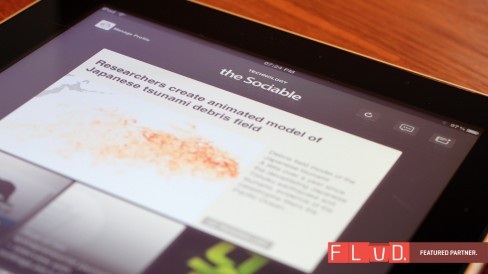 If you don't know Flud (why not‽) here's what it does; the Flud app for Android, iPhone, iPad, and Windows Phone, makes news more social – with the app you can curate a portfolio of articles you find most interesting from dozens of news organizations that feature on the platform. You can also connect your Facebook, Twitter and Google Reader accounts to share content from these with your followers.
Flud allows you to create a reading list of articles which you can read offline (for when you don't have internet access). You can also see what others are reading and have read via the app.  You can then share these stories with your followers as well as on Twitter and Facebook.
To add us to your Flud stream, just select Add News, you'll find us in there by swiping right.  The free Flud app is available on the Google Play Store, iTunes, or the Windows Phone Store.