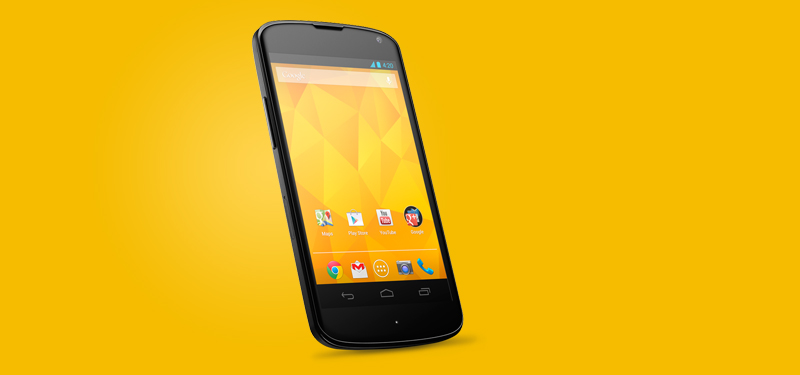 Google's Nexus 4 smartphone produces some of the lowest levels of cellular radiation from any current generation smartphone and significantly less than Apple's iPhone 5 and iPhone 4S devices, according to research from Tawkon.
But before you get too worried, according to the company's co-founder, Ori Goshen, about 90% of the radiation that a smartphone emits is not dangerous but certain peaks in emissions, which account for the remaining 10%, can be harmful.
Tawkon is a start-up that measures cellular radiation emitted by smartphones via an app, currently available for Android devices.
Measuring the radiation from the Nexus 4, Tawkon found the phone typically emits 0.55 watts per kilogram (W/Kg) of radiation.  So, what does that mean?
Radiation from smartphones is gauged in what's called "Specific Absorption Rate," which basically is a measurement of the amount of power/Watts (in this case radiation) absorbed per mass of tissue/kilograms (the W/kg number above).  Using this system it is possible to see how much cellular radiation different devices emit relative to each other.
The FCC in the US says that devices cannot have a SAR level higher than 1.6W/Kg, and in Europe the level can't be higher than 2 W/Kg, meaning that the Nexus 4 is well within acceptable levels.
Placing this on Tawkon's table of low-emission devices the Nexus 4 comes in in a reasonable 6th place.  The smartphone is responsible for less radiation than Apple's iPhone 5 and iPhone 4S as well as HTC's One S and One X.
Samsung smartphones hold the top five places and have some of the lowest SAR levels on the market. But interestingly, Samsung's Galaxy Nexus, which it produced with Google, has a lower SAR level than LG's Nexus 4 by nearly a half.
| | | |
| --- | --- | --- |
| Position | Device | SAR (in W/Kg) |
| 1 | Samsung Galaxy Note II | 0.171 W/Kg |
| 2 | Samsung Galaxy Note | 0.209 W/Kg |
| 3 | Samsung Galaxy S2 | 0.247 W/Kg |
| 4 | Samsung Galaxy Nexus | 0.303 W/Kg |
| 5 | Samsung Galaxy S3 | 0.342 W/Kg |
| 6 | Google/LG Nexus 4 | 0.550 W/Kg |
| 7 | Htc One S | 0.687 W/Kg |
| 8 | Samsung Galaxy Ace | 0.840 W/Kg |
| 9 | Apple Phone 5 | 0.901 W/Kg |
| 10 | HTC One X | 0.909 W/Kg |
| 11 | Apple iPhone 4S | 0.988 W/Kg |
Describing the Nexus 4 as a good choice for someone looking for a high-power/low radiation level phone Tawkon says its SAR number is "reasonable, even if [the] value is greater than the latest models released by Samsung."

That is, of course, if you can get one before Christmas this year.

Tawkon's app, which can tell you if your phone is emitting high levels of radiation, is available for download from the Google Play Store.

<!-comments-button-->