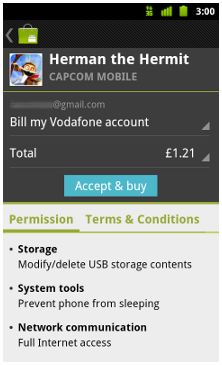 Vodafone UK has become the first mobile operator in Europe to offer users the ability to make Android app purchases through their existing mobile bill. Vodafone are also expected to introduce a similar feature to Android users in Germany.
Both Vodafone bill pay and pay-as-you-go customers can charge their Vodafone account when making app purchases on their Android device, facilitating users that otherwise may not be able to use a credit card to make purchases. This partnership between Google and the UK carrier allows user to bypass the Google Checkout process in the Android Market.
Vodafone are set to benefit as customers increase their mobile data usage through newly downloaded apps, while Google and Android developer revenues increase as purchasing becomes a universal experience.
Lee Epting, Vodafone Group's content services director stated,
"Together with Google, Vodafone has made it really simple for customers to get to the essential apps they can trust.

"More than 75 million Vodafone customers around the world are regularly using the mobile internet, and we are committed to giving them the best possible experience. This focus on quality over quantity helps deliver on that commitment."
Vodafone has also went someway to safeguard its customers by limiting purchases to £30 on a single app per month, with a £250 overall monthly limit.
Android Market image via The Next Web.