You know that feature in Gmail that you never use, the one where you can search the web using Gmail's search box? Well, Google is now testing a feature that allows you do the opposite.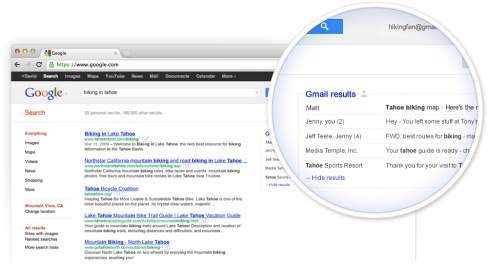 The new feature, which Google released for sign-up today, allows you to search within your Gmail account when you conduct any search on Google's standard search page.  The feature will show you your emails on the right of the screen and will even be able to show you which emails you've read and which you haven't.
This new feature isn't being rolled out to anyone yet, people who are interested must sign up at the Google Experimental page and even then they mightn't qualify to take part in what Google is calling "field tests."  It's unclear if, although unlikely that, this feature will be made available to all users by default once the test is over.  This might be something for Google power users rather than the general public.
The potential new feature is a surprising outcome of Google's policy of making Search more personal, which began with the merger of its various services' privacy policies into one earlier this year.  Since the merger Google has been bringing its services closer together – Google+ contacts now appear in Gmail's Chat service and soon Google+/YouTube Hangouts will merge with Gmail Chat.  Most noticeably we've also seen social media content not only appear in search but actually shape users' search results.
The new feature was announced today at a Google press event during which the company also revealed some interesting data (Search Engine Land has a great live blog of the event).
At the event Google announced that serves over 100 billion search results a month, oh, and it's taking on Apple at its own game.
Google announced that it will be releasing its Siri-like knowledge-graph-powered search app for iOS.  The updated app will now be able to provide full use of Google's Knowledge Graph and so provide answers to questions as well as search results.
While there is some evidence that Google's Voice Search is faster than Apple's Siri it's doubtful whether users of the latest iPhone will be willing to download another app that essentially does the same job.