The DARPA Launch Challenge aims to demonstrate the ability to launch payloads to orbit on extremely short notice, with no prior knowledge of the payload, destination orbit or launch site, and do it not just once, but twice, in a matter of days.
The Defense Advanced Research Projects Agency (DARPA) sees this challenge as a matter of national defense and has selected eight potential sites in the US from which to launch.
Read More: DARPA envisions soldiers swarming with 250 robots simultaneously in urban combat
The sites include:
California Spaceport, Vandenberg Air Force Base
Cape Canaveral Spaceport, Florida
Cecil Spaceport, Jacksonville, Florida
Mid-Atlantic Regional Spaceport, Wallops Island, Virginia
Mojave Air and Space Port, California
Naval Outlying Field, San Nicolas Island, California
Pacific Spaceport Complex Alaska, Kodiak
Spaceport America, Truth or Consequences, New Mexico
DARPA's Launch Challenge will culminate in late 2019 with two separate launches to low Earth orbit within weeks of each other from two different sites.
Competitors will receive information about the final launch sites, payloads, and targeted orbit only in the weeks prior to each launch, which include both vertical and horizontal launch options.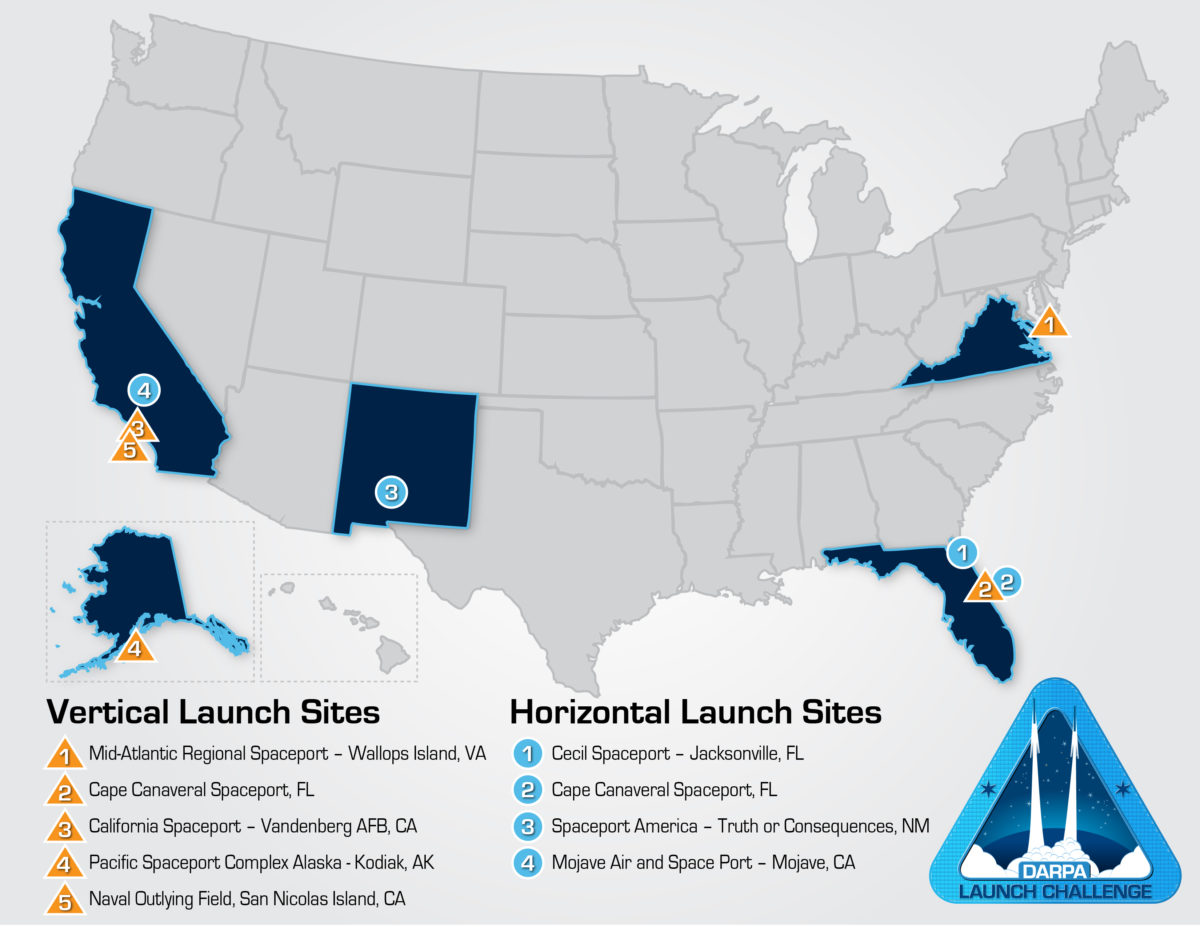 "Response from teams with different ways of achieving flexible and responsive launch solutions on short notice has been tremendous," said Todd Master, program manager for the Launch Challenge in DARPA's Tactical Technology Office.
"The different approaches to technologies used, launch requirements, fuel use, and teaming are a testament to the evolving space community," he added.
The launch environment of the future, according to DARPA, will more closely resemble airline operations — with frequent launches from myriad locations worldwide.
The commercial industry has embraced advances in manufacturing, microtechnologies, and autonomous launch/range infrastructure, and DARPA seeks to leverage this expertise to transform space system development.
Read More: Space Force 'should leverage commercial space technology': Deputy Defense Secretary
DARPA seeks to accelerate capabilities that are unconstrained to allow for flexibility and resilience, rather than one-of-a-kind, fixed infrastructure.
To successfully pass the qualification phase, potential competitors must complete three discrete applications. Potential competitors submitted pre-qualification applications in mid-October, and the DARPA Launch Challenge application is due by Nov. 30. Teams also must submit and receive acceptance of an FAA license application by Feb. 1, 2019.
The complexity of commercial space transportation regulations can present challenges for both new and experienced applicants. Teams are encouraged to consult with the FAA well in advance of submitting a launch license application to reduce programmatic risk by identifying and addressing potential regulatory questions or issues.
If teams successfully complete all three steps, they will qualify for the launch phase and receive an initial $400,000 cash prize. Teams successfully completing the first launch will receive a $2 million prize. For a successful second launch, prizes of $10 million, $9 million and $8 million are available for the top three teams respectively, ranked by factors including mass, time to orbit, and orbit accuracy.