As the world population continues to grow at a dangerously unsustainable rate, resources are becoming increasingly scarce, which has begun to force society and technology to come up with new ways to face the ever increasing demand. An area of particular concern for many countries is a shortage of adequate housing.
Early this year, UN experts expressed a strong concern regarding the global housing crisis. More than a billion people worldwide live in substandard housing and by 2030, that figure could rise to three billion. In New York City alone there were 100,000 homeless students registered in the public school system during the 2015-16 school year. A shocking number for one of the world's wealthiest countries.
Having access to housing is something the UN considers an essential human right, yet as the population grows, the ability to ensure that every individual has somewhere to call home has become progressively more difficult. However, many innovative businesses are working to create more efficient, affordable and sustainable housing to take us into the future. Here are a few of the most exciting projects out there aimed at tackling the problem.  
Robot construction workers
In the US, construction workers are struggling to build enough homes to keep up with the market's demand, a problem that is likely to be exacerbated by President Trump's strict immigration policies, flushing out many construction laborers. However, there may be a possible solution through the use of robots. A number of high-tech plants are opening in rural parts of Pennsylvania, bringing life back into economies which were heavily damaged from the last housing crisis.
In the new fabrication process, parts of a home are produced in factories and then transported on trucks to the construction site. Those pieces can often be entire rooms with tile showers or even gourmet kitchens. Because of the increased efficiency, it has been adopted by some high profile companies such as Marriott International Inc, the world's biggest hotel operator, who are increasingly using this processes of modular construction for some of its properties.
3D printed homes
3D printing has recently been used to create an entire house, albeit a small one, in 24 hours.  Over the past few years, our abilities regarding what we can produce using 3D printing have increased phenomenally, and the industry is expected to be worth nearly $29 Billion by 2020. As a result, 3D printing may present a possible solution for rapid, affordable and efficient housing.
Some innovative startups are also exploring the possibility of producing basic and affordable housing for everyone, such as Cover. This LA based startup aims to bring small, prefabricated living spaces into the backyards of the country's most popular real estate markets.
The homes vary in size from 300 to 1,200 feet, but they are cautious about calling them "tiny homes". "When you think of tiny homes, a very specific image comes to mind," says Alexis Rivas, the 23-year-old CEO and co-founder of Cover. "A tiny home is just one category of what a Cover unit can be.". The long-term aim, according to Rivas, is to increase the housing supply in cities where the cost of living has become unaffordable, in the hopes of driving market prices down.
Compact sustainable city design
As sustainable architecture guru Ramona Albert discussed in a recent article on greenbiz.com, 70% of the world's population will be living in urban areas by 2050. "Our cities need to adapt to sustain this population influx. While digital transformation and the Internet of Things (IoT) certainly will define the cities of the future, so will radical infrastructure and architecture," she goes on to explain.
The founder of Ramona Albert Architecture is a strong advocate for sustainable architecture and wrote a compelling article on what she sees as the future of cities, and identified the soon to be completed Great City Chengdu project as an interesting case study for other countries to follow.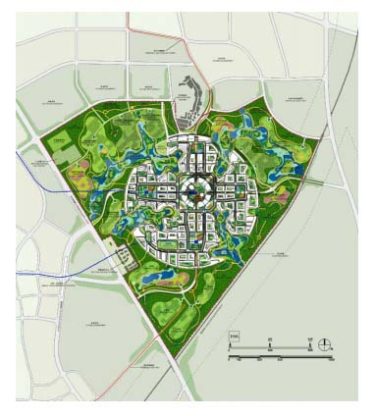 The city will provide housing to 30,000 families, which equates to a total of 80,000 people. The infrastructure will effectively eliminate the need for cars, as the entire city will be traversable in 15 minutes, and will be connected to neighboring cities by efficient mass transit. The city aims to use 48% less energy, 58% less water, produce 89% less landfill waste and generate 60% less carbon dioxide, than a conventionally designed city. Though the compact design will still allow for 15% of the land inside the city, to be devoted to parks and landscaped space.

As housing shortages and growing pains continue to place a huge amount of stress on governments everywhere, we will need to call upon modern technology and some of the world's brightest minds, to continue to bravely imagine new solutions to old problems. Only then will it be possible to ensure that everyone has a home to live in.

<!-comments-button-->