As holiday shopping season official kicked-off this week, dramatic increases in online spending have been recorded on Thanksgiving Day and Black Friday, up 39.3% and 24.3% respectively.
An IBM Coremetrics report, which analysed transaction data from 500 US retailers on Black Friday, witnessed an increase of 8.7% in mobile traffic as consumers used their handheld devices to conduct research for both in-store and online purchases. As expected Apple led the way in this regard, with the iPhone and iPad representing 5.4% and 4.8% respectively of total online retail traffic – collectively 10.2% of online retail traffic on Black Friday. Android came in third with 4.1% traffic share.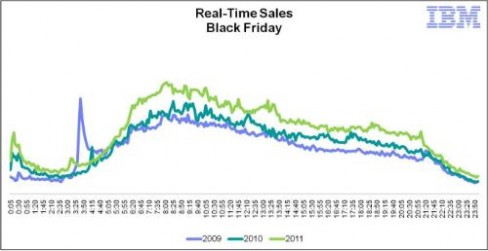 Transactions completed on mobile devices also rose sharply from 3.2% on Black Friday 2010 to 9.8% this year. Perhaps online retailers should really focus on how well their storefronts function on the iPad, as conversions on this device were considerably higher than any other mobile device – 4.6% compared to 2.8% on all others.
Consumers are turning to social media, some 110% volume increase on 2010, to discuss topics around retail like out-of-stock concerns, waiting times and parking, and what is described as a "spike in positive sentiment around Cyber-Monday sales".