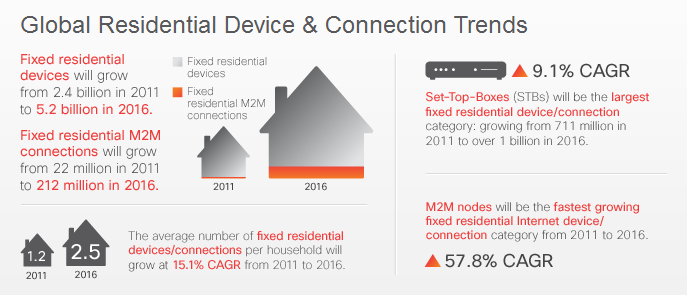 Smartphones, tablets, and other smartdevices will lead to an explosion in global web traffic within the next five years, according to a study by Cisco. However, in spite of this growth less than half of the world's population, 45% to be exact, will be online by 2016.
Cisco's Visual Networking Index, which predicts how the internet will develop over the next five years, says that web traffic will reach a total of 1.3 zettabytes (e.g. one trillion gigabytes or 1,000,000,000,000,000,000,000 bytes).
This will amount to a fourfold increase on web traffic in 2011.
Part of this increase will come from ever faster broadband connections – speeds in five years' time will average 34 Mbps in 2016, up from just 9 Mbps today. Cisco says this increase in speed will be needed to handle the biggest single drain on web traffic – video.
The report says that various forms of video, from video-on-demand, video streaming, and video conferencing, will consume most of the world's web traffic. The 560 million people who use VoIP at the moment will be joined by 368 million more users by 2016 (making a total of 928 million VoIP users in five years)
"Desktop video conferencing will be the fastest-growing service across all business service categories (mobile and fixed) from 2011 to 2016."
To put this into context Cisco says that by 2016 total IP traffic will reach 150 petabytes per hour or the equivalent of "278 million people streaming an HD movie (at an average streaming speed of 1.2 Mbps) simultaneously."

As for connected devices Cisco predicts that tablets will become the fastest growing connected consumer device. But the future isn't just about mobile devices, the reports says that the number of digital TVs around the world will more than double to 1,325 million. Households with internet connections will see slower growth – rising from 1,752 million to 2,275 million household users.

Currently, each home has about four devices connected to the internet, by 2016 this'll rise to about six devices

The report goes on to say that the number of network connections will nearly double from 10 billion to 18 billon, amounting to two connections per person alive. Yet when the global population is expected to reach 8 billion people in 2016,so there will only be 3.4 billion people online.

The report says that while Europe and North America will see growth in internet usage over the next five years the vast majority of this growth will come from Asia. But while global use of the internet will increase each of the six major geographic areas (North America, Latin America, Western Europe, Central and Eastern Europe, Africa and the Middle East, and Asia Pacific) will use the internet for different reasons.

In North America, Latin America, Central and Eastern Europe, and Africa and the Middle East VoIP will be the fastest growth area, while in Western Europe it will be in the area of online music. In Asia social networking will be the main growth area.

<!-comments-button-->