Remember Bono's planned U2 Tower? Google Maps says it actually exists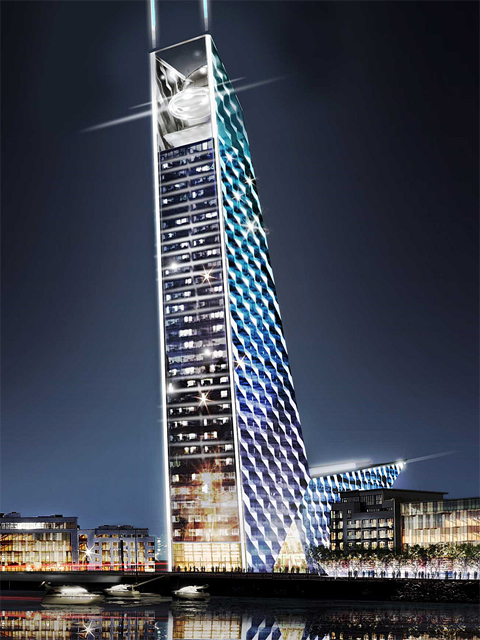 Credit: Foster and Partners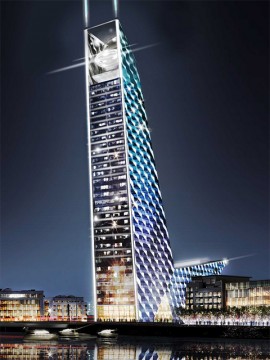 They once sang about streets with no names but Irish rockers U2 have almost the very opposite problem on Google Maps – a mapped location with no building.
At 120 meters (400 feet) tall the U2 Tower in Dublin's Docklands would have been Ireland's tallest building on completion in 2011.  But due to the economic collapse in 2008 construction on Bono's €200 million tower never started.
In February 2010 the project was further suspended by the Dublin Docklands Development Authority, the organisation charged with redeveloping the area, until the economic conditions in Ireland improved saying it "continued to have full confidence in the landmark project. "
All this came too late for Google Maps which lists the empty construction yard, where the tower was to be built, as the current location of the U2 Tower.
Google Maps was optimistic and unfortunate in describing the location as the U2 Tower. It last recorded satellite images of the Britain Quay site on September 20 2008 (according to Google Earth), just 10 days before the Irish Government bailed out its banking sector on September 30 and just 11 days before the Dublin Docklands Development Authority suspended the U2 Tower project on September 31.
Google Map showing the location of the U2 Tower
Since then things haven't improved and in November 2011 the site was handed over to NAMA, the Irish Government's Toxic bank.  Needless to say construction of the U2 Tower seems doubtful – and even the Irish Times lists the location as the "Former U2 Tower, Britain Quay, Dublin 2."

Google Street View of the U2 Tower location recorded in October 2010
Tags :
bono
Dublin
Google
google maps
Ireland Technology News
irish times
nama
u2
u2 tower