It's all too easy to join the naysayers of the world and proclaim that retail brick-and-mortar stores have their days numbered. This might be true if you're selling physical products and you don't have a coherent online and offline retail strategy.
At the end of the day, your retail presence and your online store are just different sales channels in your business.
Along with the boom in e-commerce in the past decade, new online retailing platforms and ecosystems have sprung up to serve retail entrepreneurs. Many, however, are firmly focused on online stores or drop shipping businesses. There is one startup that wants to help small and medium-sized businesses make the leap to online stores.
To get a better idea of how to successfully manage your online and offline stores, we spoke to Benjamin Yee, CEO and Founder of EMERGE App, a cloud-based software application for order, purchase and inventory management.
What inspired you to create inventory management software?
Like many of our small and medium-sized business customers, I was actually running a business dealing with custom printed t-shirts in my school days. Inventory management software then was too expensive or too complicated for my simple order and inventory management needs. So I resorted to using spreadsheets like many businesses.
However, I started to feel the pain points in my business workflow. I didn't know the true in-stock quantity of my t-shirts. I was overstocking and tying up cash in certain t-shirt lines. Customers weren't getting invoiced on time. I spent more time fire-fighting workflow issues rather than running the business itself.
It was a frustrating time as my internal issues were making customers unhappy and it affected my reliability and rating as a corporate t-shirt supplier. So I decided to gather a few developers and write my own order, purchase and inventory management software from scratch.
What makes you different from your competitors?
EMERGE App was spun-out from the in-house software that we wrote for my t-shirt printing business. As such, it was developed by a small business owner for other small and medium-sized business owners. It was written from ground-up to address specific pain points faced by business owners in managing their orders and inventory. So you can see, it wasn't developed in isolation with static use-case scenarios.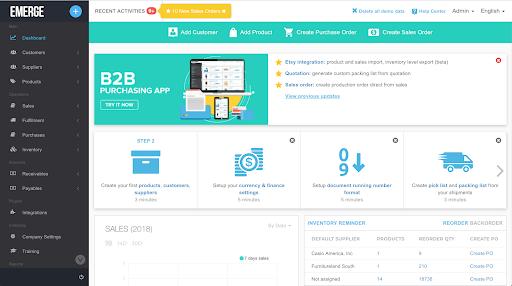 Continuing the small business theme, I wanted my software to be attractive and user-friendly for anyone in the business to pick it up and start using it straight away. The software workflow mirrors typical small business workflows and we don't ask that you re-engineer your business processes to work with us. We are about openness, flexibility and friendliness.
Also, I understand that small and medium-sized businesses are the engines of growth in developed and developing economies. And a good portion of these are using pen-and-paper, spreadsheets or electronic forms to run their businesses. It's important not to ignore or neglect them over pure-play e-commerce businesses. I want to reach out to them and help them manage their online store efforts.
With this in mind, I also wanted my software to handle whatever sales channels is thrown at it. Traditional businesses have multiple sales channels: phone, email, retail, kiosks, online stores, consignment sales, and even drop shipping. EMERGE App consolidates orders from all these channels into one repository so you only need one order, purchase and inventory management software to handle everything. This means cost savings and efficiency as you're not flipping between emails, spreadsheets and other business apps.
Finally, I understand the cash flow and working capital issues that business owners face every day. So, in line with the rise of software-as-a-service, I made my software available to use for a reasonable monthly subscription. In fact, a monthly subscription costs half of what a typical person spends on morning coffee in a month!
What is the biggest challenge facing the inventory management software market now?
In my mind, there are two related challenges.
Firstly, there's something that I call "inclusiveness". I see the online retail market fragmenting into various players. You have the pure-play e-commerce upstarts — they're young and brash with no legacy retail baggage. Then you have large retail giants re-engineering their businesses to stay relevant while they maintain expensive real estate. Finally, there are the small and medium-sized businesses of the world dipping their toes into online stores for the first time.
I think the pure-play upstarts and large MNC retailers are well-served by existing e-commerce solutions and consulting firms. It's the small business sector that I'm after. It takes a lot more effort and work to change their mindset, meet their budget constraints and convince them that cloud applications are the future.
Secondly, internationalisation. There's no surprise that small and medium-sized businesses form the bulk of industry in developing countries around the world. It is in these same countries where there might be dozens of dialects spoken along with subtle changes in the way of doing business. EMERGE App is currently available in native English and Chinese language versions. But we're ignoring a lot of business owners that don't speak either language.
So, growing our customer base beyond developed nations means addressing these micro-economies around the world. This means more international language interfaces along with customer support in their native language. These things cannot be automated or outsourced, however. But I think if you have English, Chinese, Hindi, Spanish, French and German language support for your application, you've covered a good portion of the world's economies that speak these languages.
What do you consider is EMERGE App's greatest achievement within the past 6 months?
EMERGE App is just about two years old. It took a while to get traction as we're not a glamorous B2C app that can depend on viral marketing for insane growth. Our customer growth has been a steady subscriber at a time, earning the trust of small business owners first.
The good thing is that once customers sign up with us, they tend to stay with us because they see the immediate advantages and convenience of moving their customers, suppliers, products, orders and shipments to the cloud. We're averaging a 15% month-on-month customer growth at the moment.
What is the main focus for EMERGE App over the next 6 months?
Hiring great brains and personalities! We have well over 1,000 users in 40 countries over 5 continents. I'm always looking for talent in other countries because of language, business culture and time difference.
The beautiful thing about software development is that I can develop and firm up a new release that is immediately available to anyone in the world with a decent Internet connection. EMERGE App is open 24/7 to use and subscribe to.
However, sales, marketing and customer support roles need humans behind them. These functions cannot be automated and you need to be reasonably experienced to talk about small business and technology together in one sentence. You are selling to and supporting seasoned business owners after all.
Look for me, Ben Yee, at LinkedIn and drop me a note if you're interested in a role in your territory.