If you play live games or watch live streamers, you've probably seen a variety of gaming chairs. If you've been considering one of your own, you've surfed into the right spot. We've put together the ideal buyers guide for gamers of all stripes.
Is a Gaming Chair Worth It?
Yes, a gaming chair is absolutely worth the money if you are a dedicated player. They enhance the gaming experience. They can give you a slight edge while playing. The right gaming chair can also force a better posture, and reduce the risk of back and neck pain. Your challenge is finding the right chair for you. Below is a list of the various chairs available. Read the descriptions to find the best one for your needs.
PC Gaming Chair
If you've been to an eSports competition, these are the chairs you see. A great PC gaming chair is ergonomically designed for gamers. Depending on the manufacturer, you can get a PC gaming chair in a variety of colors with add-ons such as removable lumbar support and neck pillows. You can expect to spend over 200 dollars on one of these chairs. In spite of being console gaming chairs, these are versatile and ideal for console gaming as well.
Final Verdict: These chairs are the cadillac of gaming chairs. They are multifunctional, and designed for comfort and safety. They are a worthy investment for intense gamers. Find the right gaming chair from the best brands at Got Ur Back.
Rocker Style Gaming Chairs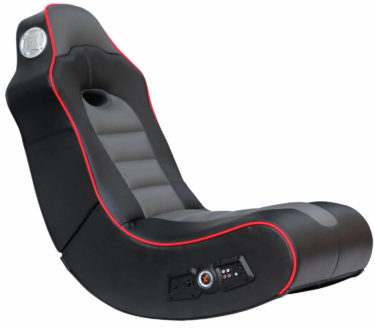 These chairs get a bit of a bad rap. We think that's unfair. Yes, there are cheap versions of these in basements all over suburbia. The bad chairs are poorly made and uncomfortable for anyone that isn't a child. Don't let this deter you from considering what is a very comfortable chair for casual gaming. A good rocker style chair has great features:
Built in Speakers

Arm Rests

Cup And Accessory Holders

Quality Padding And Upholstery

Wireless Connectivity to Other Gamers
Final Verdict: Shop around for a great chair and you can find a great rocker chair. Don't waste your money on discount store models.
Pedestal Rocker Gaming Chairs
These are similar to the rocker style chairs, but they come on a short pedestal. In addition to forward and backwards rocking, you can also swivel. These chairs lift you a bit off the ground, and that can help keep you at better eye level with the screen you're looking at. Other than the lift and extra movement, these offer pretty much the same features as other chairs.
Final Verdict: These are little easier to get in and out of, and the swivel can help depending on  your gaming setup.
Racing Gaming Chairs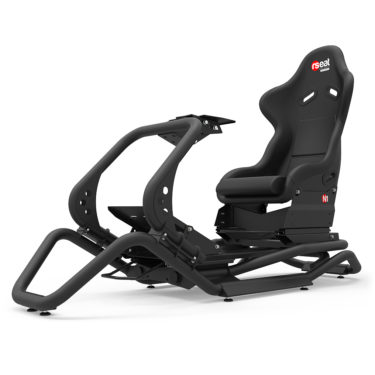 There are PC style gaming chairs that are designed to look and feel like you've taken a seat in the cockpit of a race car. Then there are these beauties! These are chairs that either have steering wheels and pedals incorporated in their design, or they are built so you can add your own. You could almost refer to these as racing simulators. Some have gear shift mounts, and slide forward and backwards, just like the seats in your car.
These are really cool, but there are a few drawbacks. As you can imagine, price is one of them. These can be expensive. If you go this route, be prepared to open your wallet. Remember that there are a lot of moving parts here, and cheap parts will only cause problems later.
Final verdict: Cool chairs but pricey. If you get one, pay attention to the quality of the materials and mechanisms. These are niche chairs that are best for driving and flying games.
Bean Bags
There are two kinds of bean bag chairs. You've got the traditional, 'blob' of a bean bag chair. Then there are the more structured kind. These have an ever so slightly dedicated seat, back, and armrests. Bean bag chair covers range from thin, cheap cloth to leather. Fill can be anything from pellets to memory foam.
Gamers should look for a sturdy, well-made chair. The 30 dollar model you find at Walmart isn't going to do much for you. These chairs can be rough on your back and rear if you spend hours at a time in them. You can do yourself a favor by using a highly stuffed, structured version. If you've got existing knee and back problems, these aren't for you.
Final Verdict: These can be comfortable. Still, they aren't great for long running gaming sessions. Save them for kids that game for an hour or two after school.
Standard Office Chairs
This isn't an ideal gaming chair for anyone. Still, it's what many people are stuck with if they don't have funds or room for a dedicated gaming chair. If this is your situation, your best bet is to pick a well built office chair. The frame should be sturdy, ideally made of metal. The padding should be thick and the covering should be durable.
Before you buy, check out reviews. If a desk chair is wearing out in a year or less for an average user, it's not worth your time. Finally, check out after market products such as lumbar support pillows.
Final Verdict: Not ideal, but you can make it work if you do your office chair due diligence.