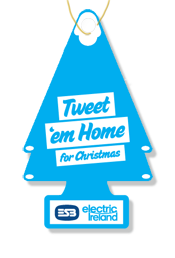 How many tweets do you get to the gallon?  Ireland's largest electricity utility, ESB Electric Ireland, will find out in December when they attempt to cart six Irish celebrities and three ordinary Joes from one side of the country to the other using tweets as 'fuel'.  And that sounds crazy it's because it's being done for charity.
The 'Tweet 'em Home for Christmas' two day event will see three cars, each containing one member of the public and two celebrities, travel from Dublin to Galway and back.  The winner won't be determined by who passes the finish line first but by the number of mentions on Twitter each car receives.
So a car that travels slower could become the eventual winner if they use the time to drum up more support online. The member of the public will be the designated driver and will be chosen in a Facebook popularity contest.
Tweet fueled DeLorean
The competition is being run with three Irish charities, Concern, The Irish Cancer Society, and The Irish Society for the Prevention of Cruelty to Children.  Each charity will have its own car and they will all get a guaranteed €10,000 but the winning charity will get an additional €20,000.
Concern's team of singer-songwriter Mundy & RTÉ presenter Katie Van Buren will be in a DeLorean (that's right people we're talking about a tweet-powered DeLorean!). Comedians Andrew Stanley and Joe Rooney will be driving for the Irish Cancer Society in a New York Taxi.  Rugby pundit Brent Pope and mentalist Keith Barry will be in an electric car from Renault.
Klout
The company is using Klout to gauge potential drivers' social media influence, saying in the application form that users with higher scores will be more likely to become drivers, "By telling us your @handle, we can see what kind of Tweet reach you've got….If you're already following your Klout Score, you'll know that the better your social influence is, the better chance your application will have."
They also suggest that users who upload YouTube videos as part of their application will also be more successful.  To make things sweeter, the chosen driver behind the wheel of the winning car will receive a year's worth of electricity as their own prize.
The campaign comes from the same company that brought us the Twitter powered café at this October's Dublin Web Summit, the café worked by asking users to Tweet a menu order, which would then be served up to them automatically.