It may come as a surprise (or it really might not) that Home Alone takes the title of the number one most successful Christmas movie at the North American box office by a landslide. With a lifetime gross of over 285 million U.S. dollars, the film did not only crush the year it came out, but has had legitimate staying power, and managed to nestle itself securely at the top of many peoples favorite "Holiday film" re-watch list.
Starting December 1st for @25Days pic.twitter.com/Ldx3TXz7Wr

— Kevin McCallister (@Home_Alone_Kev) November 30, 2017
It makes sense that December is a TV-heavy month, with many people on break and vacationing, but why do we spend so much time with stories whose endings we already know? Especially around the holidays?
As the holidays have evolved, many peoples "rituals" have been increasingly intertwined with feel-good holiday films. The simply retold stories allow viewers to recapture a lost feeling or appreciate the passage of time, at a level that has even been called "therapeutic" by some researchers.
Even if you aren't one of the 53 people Netflix hilariously called out for having watched A Christmas Prince every day for over two weeks, chances are there are one or two "classics" you wouldn't mind curling up with when December rolls around. Everbody's got at least one.
To the 53 people who've watched A Christmas Prince every day for the past 18 days: Who hurt you?

— Netflix US (@netflix) December 11, 2017
Luckily for this holiday season, Unreel Entertainment has gathered all of your favorite classic Christmas movies and cartoons into one place, in new video streaming service called Christmas Zone, and its free. The OTT app development platform creates branded video apps for networks and publishers, and the curated content became freely available via streaming at the beginning of December. 
So, are you a Miracle on 34th Street kind of person? Does A Charlie Brown Christmas put you in the mood? Have your kids never seen Rudolf the Red-Nosed Reindeer, or Frosty the Snowman? The Christmas Zone app has you covered on Android and has an iOS and tvOS version coming this week. Or of course, you can even access it on the web here.
In addition to movies and cartoons, the streaming app also has Christmas content from Vin Di Bona Productions, the producers of the television show America's Funniest Home Videos.    
But unfortunately for one Nebraskan fan, Christmas Zone did not feel Die Hard was a good fit for their Christmas compilation this year either…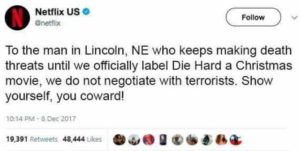 Unreel's previous holiday-themed app was called Halloween Flicks, which reached 25 thousand downloads in just 1 week. The app allows users to turn anything they are watching into an instant sharable GIF or Meme comment in general or about specific scenes.