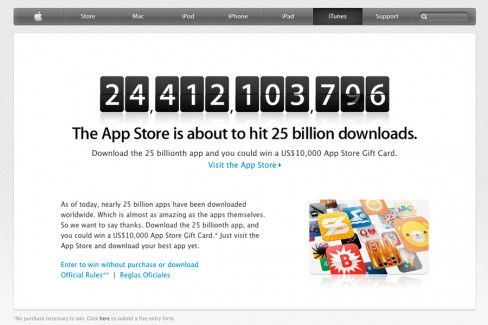 Apple is counting down to its 25 billionth app download and will celebrate the significant milestone by giving away a $10,000 gift card to whoever downloads app number 25,000,000,000.
Participants are automatically entered whenever they download any app from the App Store. Alternatively, users can enter the competition using this online form – but that's no fun.
The $10,000 gift card can be redeemed in the App Store, iTunes Store and iBooks Store, as available in the winners country.
The App Store first launched in July 2008 and contains over 500,000 apps. Apple reached the 10 billionth app download milestone in January 2011 and have rocketed to 24.4 billion downloads since.
The competition is open to those aged 13 and over, with only 25 entries permitted per user per day.