Direct image attachment coming to Twitter's mobile web app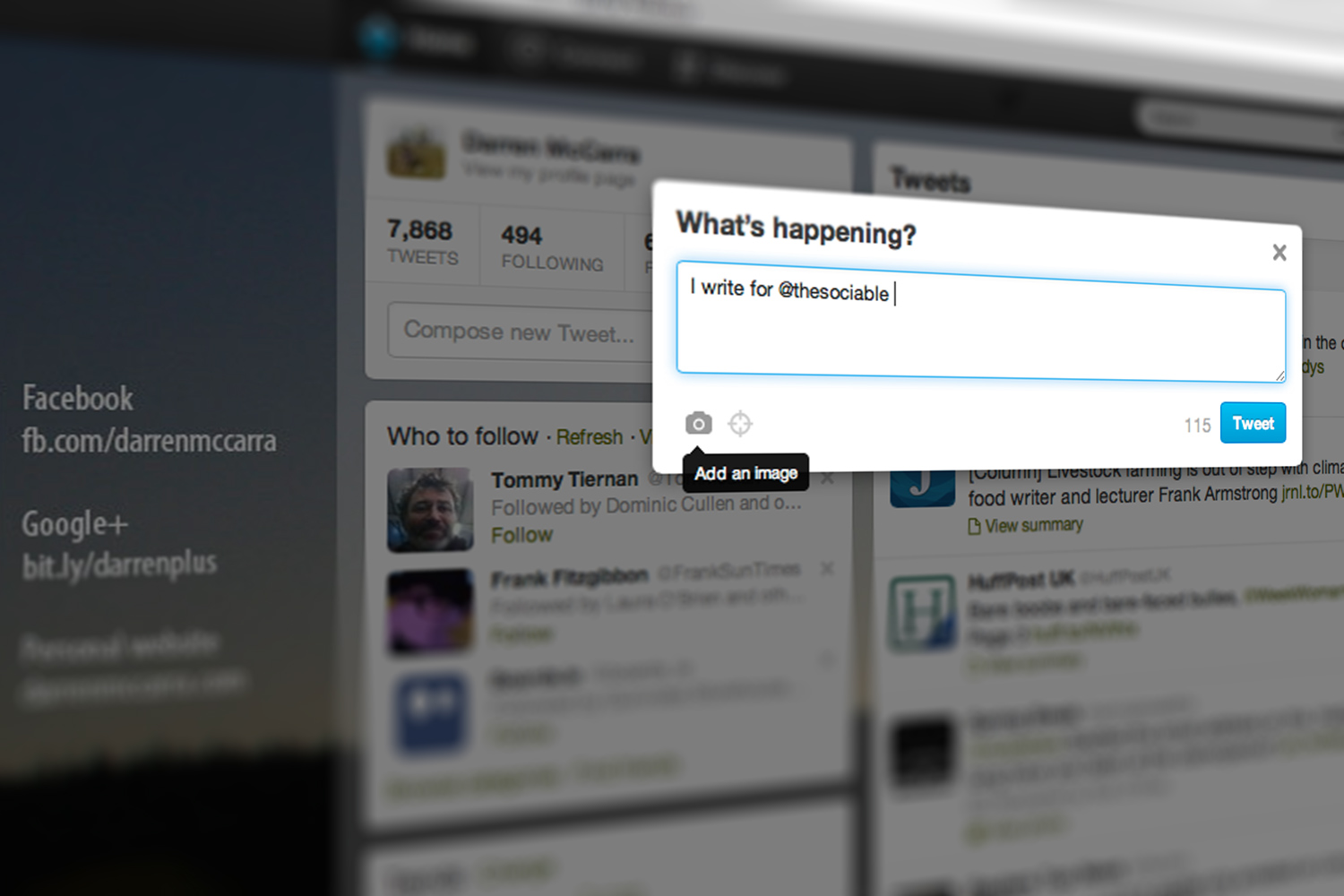 Image attachments on twitter.com, coming to mobile browsers
Twitter is testing native app-like features for its mobile browser web app that will allow users to attach images to tweets – this includes capturing images direct from a user's smartphone camera and images uploaded from the device's library.
At present, image uploads are only possible on Twitter's native apps, on a plethora of third-party native clients, and through twitter.com on desktop. Twitter is expanding its already established native app functionality to mobile.twitter.com.
Direct image uploads were rolled-out on twitter.com in August 2011.
Twitter's mobile product manager, Sung Hu Kim, shared an image on Twitter (where else?) yesterday of the sun setting over San Francisco. Kim later revealed that the image had been tweeted from his phone's browser and congratulated the mobile web team at Twitter for their achievements.
Sunset and a jet. pic.twitter.com/XYAnpC8J

— Sung Hu Kim (@sunghu) September 9, 2012
That last photo was tweeted from my phone's BROWSER. Our amazing Twitter Mobile Web team did it again.

— Sung Hu Kim (@sunghu) September 9, 2012
The image was uploaded from Kim's phone gallery, but he confirmed to me that direct capture and upload from a device's camera is also supported.
@darrenmccarra From the gallery, but camera's also supported.

— Sung Hu Kim (@sunghu) September 9, 2012
It's not yet known when we can expect the feature to be rolled-out to the general Twitter population.
Twitter has long-embraced the browser and web apps. Last August, the company released an improved HTML5 browser-based version of Twitter for iPad. In July of this year, Twitter announced that it had customised its site for more than 13 different mobile browsers operating on thousands of mobile devices – most of which are pre-Android and iPhone.
Update: The feature is currently available in the browser on Android 4.0 (Ice Cream Sandwich) and above.
Tags :
browser app
image attach
image attachment
image capture
media upload
mobile app
mobile.twitter.com
San Francisco
sung hu kim
Twitter
twitter html5 app
twitter mobile