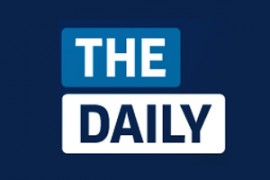 Rubert Murdoch and Steve Jobs are expected to appear together on stage later this month to launch Murdoch's new iPad-only publication known as The Daily. According to Forbes journalist Jeff Bercovici this launch date could be January 19th, 2011.
A recent report on Yahoo's Cutline blog also rumours that the San Francisco Museum of Modern Art is the chosen venue for the announcement.
The Daily has been receiving significant interest in the last few months, especially since Murdoch is reported to have heavily invested in the project – $30 million US dollars. This investment has helped Murdoch attract established talent like Jesse Angelo from the New York Post to run the publication, Greg Claymon, former Viacom digital distribution boss, to manage business operation, and a string of top journalists from the New Yorker, the Daily Beast, Forbes, AOL, and Politico.
No pricing details for the publication have been officially released yet but it's expected to sell on a subscription basis for around $0.99c per week.