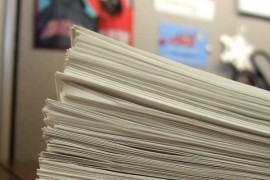 Paper.li, a site that "organizes links shared on Twitter and Facebook into an easy to read newspaper-style format" has just raised $2.1 million in funding. SmallRivers, the Swiss company behind paper.li, will receive capital from Highland Capital Partners, SoftBank Capitol, and Endeavour Vision.
Paper.li plans to use the newly acquired capital to fund office expansions into the United States and Asia, to grow its team, and to seek new content providers.
We checked out paper.li ourselves a few months ago and were really impressed by its potential as a news filtering service. According to a recent blog post paper.li now has two million unique users in over two-hundred countries, and publishes 150,000 custom online newspapers daily.
Let us know if you use paper.li and what are your impressions? Is it the future of journalism, or at least part of it?
Image courtesy of iampeas on Flickr.