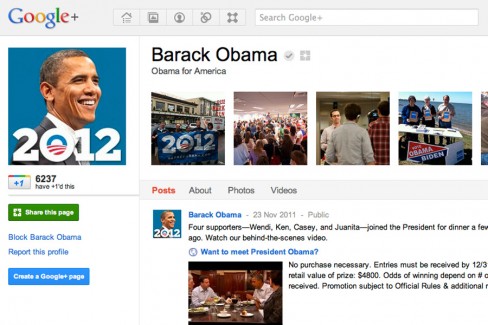 United States President Barack Obama has joined Google+ ahead of next year's presidential election. The Google+ Page has officially been verified by Google and its first update published Wednesday afternoon.
The page is of course administered by Obama's tireless social media campaign team and not the President himself. With the relatively new social network officially endorsed by the highest office in the country, many more influential people are sure to follow.
At the time of publishing this article, Obama's initial Google+ post was +1'd 694 times, shared 202 times and received 457 comments. 6237 people have +1'd the page. It reads,
"Welcome to the Obama 2012 Google+ page. We're still kicking the tires and figuring this out, so let us know what you'd like to see here and your ideas for how we can use this space to help you stay connected to the campaign".
Two other posts made that day include one concerned with the employment of war veterans and another inviting supporters to make a donation to enter a prize draw for a chance to have dinner with the President.
Some of the commentators on Obama's Google+ Page rightly point-out the usefulness of Hangouts in helping Obama 'connect' more with supporters – a technology that didn't exist during his last iconic campaign in 2008.