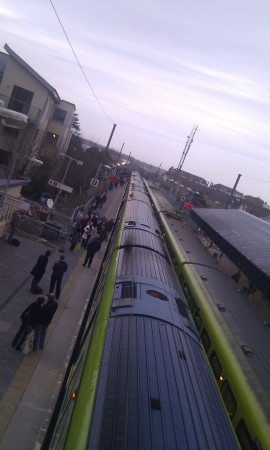 Today has not been a good day for Irish Rail.  Following a tragic incident in Portarlington, which brought westbound trains out of the city to a halt, the company suffered a major points failure on the Dublin-Belfast line which halted rail traffic on the northern line for two and a half hours.
According to Irish Rail this delay on the northern line was caused by a signal failure but this was not the only failure Irish Rail encountered – they also suffered a social media public relations failure.
[Update 2011/04/01 – You can read Irish Rail's response to this post and their plans for social networking here]
During the unprecedented snow in December Irish Rail earned a lot of kudos through their constant updates about delays, alterations and through their responses to users' questions.  During this time they were proactive in engaging with their followers and responding to questions and criticisms.
If that it were still.  Today the company showed itself to be more reactionary than active.
The company's first announcement of the delay came at 6:40, two minutes after this author tweeted the delay.
Delays to Malahide DARTs northern commuter and Belfast services due to a signal failure. Howth DART services operating as normal

— IrishRail (@IrishRail) March 30, 2011
@irishrail why the 20+ minute delay in Malahide station for northbound commuter trains? why no audible announcements as to the cause?

— Piers Dillon-Scott (@pdscott) March 30, 2011
Of the 6 tweets the company made during the two and half hour delay, three were sent between 7:30 and 8pm, some 90 minutes after the delay began and long after other Twitter users began looking for answers.
Following this writer's message to Irish Rail the company sent a direct message saying "We have had a signal failure so currently no trains can move. We are working to rectify it apologies." Fair dues to them for responding but aren't they missing the point? This is not private nor sensitive information, its release as a public message would not harm the company's image nor embarrass them.
Mores-to-the-point, it would placate Irish Rail customers stranded on trains between stations.  It would demonstrate that the company was aware of the problem and working on a solution. Simply put, in the information age, the simple act of providing regular updates is far better than providing none.  To mix metaphors "no information is worse than bad information."
Such was the dearth of information, passengers who were able to leave their train flocked to the driver to get any update they can about the delay. But should they have to? Shouldn't Irish Rail, with a working site and active Twitter stream be providing the information?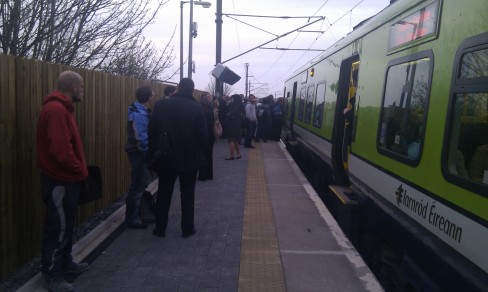 What ever about not consistently posting updates about the problem by not publicly responding to questions or comments from stranded customers Irish Rail further damaged its previously hard-earned customer service reputation.
Also thanks to @irishrail, two kids at home on there own for over an hour with only a neighbour keeping watch.

— Suzanne Fitzpatrick (@SiouxTrick) March 30, 2011
@IrishRail why can't u back trains up and at least allow people to get off at a station.

— Niall O'Connor (@nialloconn) March 30, 2011
@Irishrail any expectation on time to fix, mins, 10s of mins, hours???

— Brian Bolger (@brianbolger) March 30, 2011
@IrishRail are you letting people off the trains waiting/stuck outside Malahide?

— Brian Bolger (@brianbolger) March 30, 2011
@IrishRail a rough idea would be so helpful. An hour, two?? Please, any clue???

— Louise Holohan (@louiseholohan) March 30, 2011
@IrishRail Folks is getting restless on the northern line. Any update on the signalling issue?

— Patrick O'Donnell (@patodonn) March 30, 2011
Speaking with Twitter user @dougalch, who was stuck in a train outside Drogheda for over two hours "a mile from home" having just set out, the lack of information or advice during the delay as equally damaging to Irish Rail's reputation.
@pdscott Mood was quite somber. Few pacers few pensive but mainly, given the location, anxious & dispondent. A mile from home, stuck & tired

— Colin Hayes (@dougalch) March 30, 2011
And when the train began moving again this level information was not publicly communicated,
@pdscott Driver announced fault fixed and tests to be done at 7.45 we were on move at 7.57 and 3 mins later in Drogheda! Dinners in the dog!

— Colin Hayes (@dougalch) March 30, 2011
This lack of information is not just an issue for Irish Rail.  Last Friday Dublin Bus joined rejoined Twitter having, left the service in May 2010, with the username @dublinbusnews (having previously been @BusAthaCliath).  This username change is small but significant, the addition of "news" to the company's title places a partition between the company and its Twitter feed.  It suggest that this account will only be used for broadcasting information and not engaging with customers.  That the account is only following news media accounts or other transport companies suggests they desire a limited engagement with the public.
[Update 2011/03/31 – Thanks to Barry Kenny for clarification that @BusAthaCliath is not an official Dublin Bus account]
My criticisms are not of Irish Rail's service nor of this particular delay (you should expect such things on any form of public transport). My criticisms are of the lack of communication on the trains, at the station and online.  With the recent rise in rail prices and as paying members of the public is not reasonable that we should expect more from our national rail company?
[Update 2011/04/01 – You can read Irish Rail's response to this post and their plans for social networking here]