Twitter is down again after briefly recovering from a significant outage which saw the Fail Whale return for millions of users for over an hour on Sunday.
The finger is already being pointed at Anonymous, who, according to This is Xbox, threatened "The UN, Xbox Live, US Bank, Capital One, Twitter, Facebook and YouTube will be struck down" if Megaupload.com was not put back online within three days of January 19  (although @YourAnonNews tweeted that the group would not do so).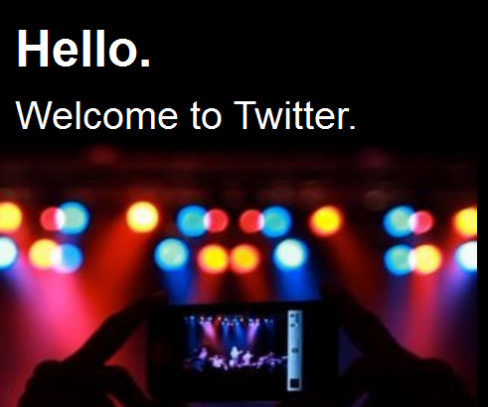 On Sunday Anonymous took down several Brazilian Government websites; Gizmodo is reporting that they also took down cbs.com and UniversalMusic.com. On Thursday they took down the US Department of Justices's website and Universal Music's as a reply to the shutting down of Megaupload.com.
We don't know at this point if it was Anonymous that took Twitter down.  Twitter's API status page is reporting (if we're reading this right) that there was a significant increase in the number of calls, more than doubling the processing time from 481ms to 970ms on Sunday (perhaps a DDOS attack?).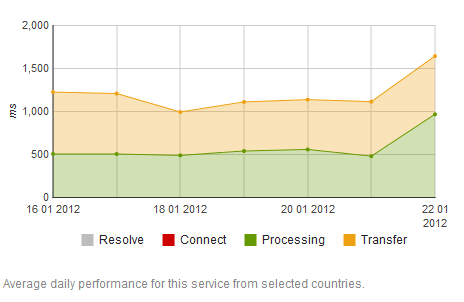 While downrightnow.com showed that Twitter has been down at several point on the 22 of Jan and consistently for over an hour (at the time of writing).

On Saturday Twitter's API's availability fell to 83% at 9am GMT but returned to 100% for the next 10 hours.  But at 10pm GMT the API's availability fell to 41.7% – an hour later it was had recovered to 83%.  After recovering slightly at midnight the main site went down again, although Twitter's mobile site and Chrome TweetDeck app continued to operate.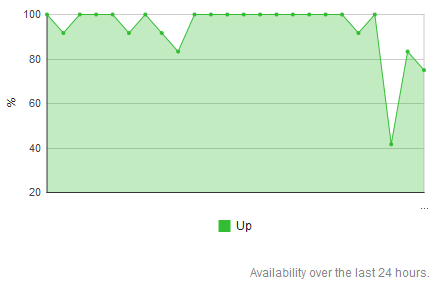 [Update – Monday 23/Jan/2012 00:52] Twitter has updated it's status blog to say "site issues" have been fixed, although they don't mention that the cause of the issues were.
Update: This issue has been resolved.

Some users may currently be experiencing site issues; our engineers are working on resolving this issue.
"