What would you do with a drunken sailor? Replace him with a robot 'till he's no more!
Wrap me up in me oilskin and jumper
No more on the docks I'll be seen
Just tell me old shipmates
I'm taking a trip, mates
And I'll see them one day on Fiddler's Green
Fiddler's Green – John Connolly
Within the next decade, sea shanties may be a thing of the past as AI-driven, autonomous fleets may make sailors obsolete upon the high seas.
It's not just cars, trucks, or aerial vehicles that are becoming driverless. Autonomous naval vessels are now on the not-too-distant horizon.
By 2025, a conglomeration of tech, auto, and marine industries hopes to have autonomous ships operating commercially in the Baltic Sea.
In order to promote autonomous traffic around the globe, the One Sea Autonomous Maritime Ecosystem, led by DIMECC, has taken upon itself to introduce road maps towards an autonomous maritime future. The road maps include a timeline towards 2025, along with major themes to be investigated and levels of maritime autonomy.
The expected timeline for autonomous maritime traffic shows that the regulators will have to increase the pace at which new regulations are approved. The technologies are advancing at such a speed that the rules and regulations risk becoming obsolete.
The One Sea ecosystem is a smart environment, where intelligent devices and solutions read Big Data, analyze it, and communicate with each other, with further decisions made independently.
The conglomeration aims at minimizing accidents, decreasing the environmental footprint of marine traffic, and advancing possibilities for efficiency improvement and new commercial ventures.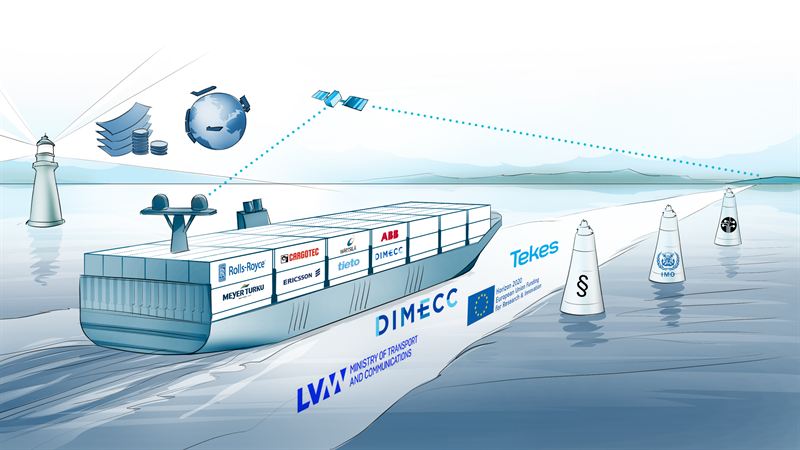 Tieto, a Finnish software and IT company and a founding partner of One Sea, is looking to tap into an IoT ecosystem for autonomous maritime traffic in the Baltic Sea.
"Very soon, [the] Internet of Things will be seamlessly integrated in our everyday life, and we will also see a growing number of real-life applications for robotics and AI," said Tom Leskinen, Tieto's Head of Product Development Services.
"Here autonomous traffic is one key area, and Tieto has been actively participating in related networks and development work. While autonomous cars have been in focus, the development for road traffic has synergies to sea – One Sea – Autonomous Maritime Ecosystem is a great example of seeking new possibilities to co-create future innovations," he added.
Oh, what will us poor shellbacks do?
Leave her, Johnny, leave her.
Our money's gone, no work to do
It's time for us to leave her.
Leave Her, Johnny, Leave Her – Sea Shanty
Autonomous ships have many advantages including state of the art technology, which increases safety, no crew to feed, pay, or clean up after, and there's no one to take as a hostage in the rare case of raiding by pirates.
On the other hand, it marks the beginning of the end of a romantic nostalgia of a bygone era. Sure, humans may always navigate the seas for personal reasons, but for commercial shipping, big data and AI are the new masters and commanders.
While One Sea is looking towards commercial shipping for its application, other sectors such as fishing or even the military may follow suit.
The founding partners in the One Sea – Autonomous Maritime Ecosystem are ABB, Cargotec (MacGregor and Kalmar), Ericsson, Meyer Turku, Rolls-Royce, Tieto, and Wärtsilä.