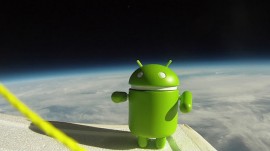 Google's PR department showed some genuine blue sky thinking this week when they sent an few Android Nexus S phones into space.
Using a weather balloon, a parachute and a polystyrien box Google floated Android dolls into the lower atmosphere this week, and recorded the entire 30Km (100,000 ft) trek using Samsung Nexus S phones attached to each box.
Google said on their blog

[We] worked with UCSC student Greg Klein to prepare each of the payloads [including an android doll and a Nexus S phone attached to a perspex screen], which were housed in foam coolers. We secured a nylon load line to the cooler and attached to it a radar reflector, a parachute, and finally, a weather balloon. Every payload had an APRS transmitter attached to a GPS that was known to work at high altitudes, as well as batteries for power. The remainder of each payload was different for each balloon: some had digital cameras taking pictures and some had video cameras mounted at various angles (up, down, and at the horizon).
It may be a PR stunt but some of the images it recorded are simply amazing, as too is the data. According to Google the phone traveled over 30Km (100,000 ft) and reached speeds of 223kmph (139 mph).
The payloads collected a lot of data, and many reached high altitudes, with the highest topping out at 107,375 ft., over 20 miles high, or over three times the height of an average commercial jet. We also clocked one of the payloads at 139 mph at its fastest.

In tracking the sensors on each of the phones, we observed that the GPS in Nexus S could function up to altitudes of about 60,000 ft. and would actually start working again on the balloon's descent. We also saw that Nexus S could withstand some pretty harsh temperatures (as low as -50˚C). Some interesting data we collected:
Maximum Speed: 139 mph
Maximum Altitude: 107,375 ft (over 20 miles, over 30 km)
Maximum Ascent Rate: 5.44 m/s
Average Flight Duration: 2 hours, 40 minutes
Average Descent Time: 34 minutes

By analyzing all the collected data, we were able to find some interesting trends. For instance, we determined the speed and altitude of the jet stream: about 130mph at 35,000 ft.
You can see the full story on YouTube