Procedures and processes have long been the secret sauce of business. There probably isn't one product or service in the past century that hasn't gone through a system of processes to make sure that the production was as efficient as possible—such is the human notion to "work smarter, not harder".
Now that technology has entered the picture, procedures, and processes have become digitized and processing data makes our daily lives possible—with these systems running entire industries. That is what makes Software as a service (SaaS) such an applicable solution because, at the core of its design, it is meant to streamline any process or set of procedures and make them more efficient. Want to watch a movie on command? Saas company Netflix is here for that. Want to have your documents and emails all in one place? SaaS company Google workspace helps here. And the list goes on.
Technically defined, Software as a service (SaaS) is a software distribution model in which a cloud provider hosts applications and makes them available to end users over the internet. This makes the SaaS ecosystem quite diverse, but having the capacity to outsource a cloud service to help streamline a set of processes and connect to applications has been especially impacting in certain industries.
Connect: SaaS was a pitch competition by PR company Publicize designed to bring together leading members of the media with some of the most innovative startups within the SaaS Industry. Let's take a look at the winners from the event who help to highlight some of the great expectations of SaaS in 2023.
Streamlining Collaboration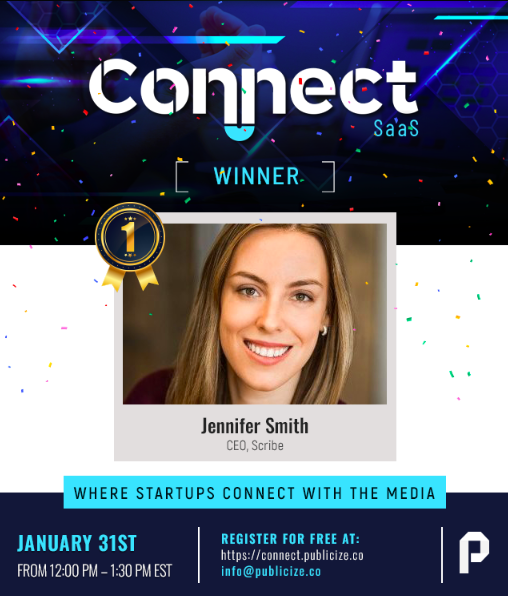 The first-place winner of this week's competition was Scribe, a company that shows just how innovative SaaS can be when applied to daily operations. A browser extension and desktop app that turns any process into a step-by-step guide, saving the average worker 20+ hours a month in explaining, training, and answering "quick questions." 
The extension application allows users to combine, customize and share Scribes with anyone, anywhere, and the best part is that there is a free basic plan that tens of thousands of users already create and share guides through.
Scribe helps to auto-generate step-by-step instructions with text and screenshots, so users simply need to press record, then carry out their process while Scribe quickly generates your guide.
This saves tons of time and money throughout daily operations of business, and across industries. According to the company, it has been shown to help users be 15x faster when documenting processes, 67% faster at discovering solutions, and increases the output of a team by 25%. 
Helping to lower costs and increase effectiveness, Scribe is helping both businesses and individuals scale their productivity through the elimination of unnecessary or ineffective tasks. By streamlining tasks, this SaaS company is helping to generate collaborative environments where creativity is valued and change can be welcomed rather than feared. This type of innovation will disrupt companies across industries that are on the digital interface—from communications, to sales and marketing, all the way to industrial manufacturing.
SaaS for Better Healthcare Outcomes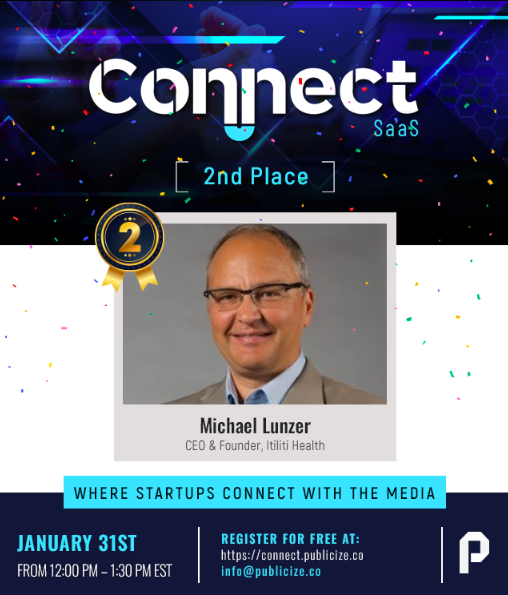 Second-place winner, Itiliti Health, automates and streamlines insurance procedures within the healthcare space. By reshaping a process called prior authorization, this company is altering how medical services are delivered—benefitting all of the patients, businesses, and medical professionals that are impacted by this market.
Preauthorization can be a very meticulous process for anyone who is trying to have a medical procedure done because it has to go through several hoops between the insurance company that covers the patient and the hospital that will be treating them. This can sometimes take months for a patient who has a timely and life-altering operation on the table.  
Illiti helps by assisting in offloading the administrative backlog associated with assigning a preauthorization to an agent who handles the casework manually by utilizing machine learning algorithms to swiftly match which medical procedures a patient is automatically authorized for. The final result is a sizable decrease in administrative expenses and an improvement in patient care—enabling appropriate medical attention to be provided promptly. 
The third-place winner is also in the health tech space, and also leverages machine learning (ML) and AI algorithms to help automate tasks that help this industry improve the services provided to patients. Driving Life Science Innovation through human language and ML solutions is Huma.AI.
This Saas company gives experts the ability to instantly receive information on industry benchmarks, such as enrollment requirements, sites and sponsors with ongoing clinical trials in particular disease areas, rivals for sites where patients can be enrolled, and key investigators for particular disease areas.
By utilizing internal sources of the platform, Huma.AI helps to automate aspects of the life science industry—streamlining post-market surveillance operations, and monitoring clinical effectiveness, adverse events, abuse, and feedback to assure risk management and ongoing improvement can occur.
Saas for the Future of Industry
Transparency in procedures lowers the chance of human error, preventing costly errors and ensuring adherence to laws and regulations. It also helps for businesses' accountability as it increases process consistency and outcomes.
A Betterbuys report reveals that the U.S. SaaS Industry is forecasted to reach $55 billion by 2026. Trailblazers in SaaS will be the ones leading the next chapter of the business world, no matter what industry the stakes are tied to. Keep an eye out for these companies and others in the SaaS space as they revolutionize the future of industry.
Disclosure: This article mentions a client of an Espacio portfolio company.