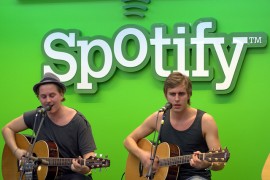 Free online music site, Spotify, is "looking forward" to launching in the United States in the coming months, according to an email reportedly from the company published by All Things Digital.
In the email, which ATD published yesterday, Spotify asks some US citizens who are testing the site's premium service to change details on their online account. But most revealing, it also says,
"We are really looking forward to launching the service in full in the USA over the coming months, and hope that you will continue to use the service and be one of our key advocates."
Currently Spotify is only available in seven European countries but has been trying to break the United States for some time. The site allows users to listen to a limited but large amount of music for free online supported by ads; premium account users can listen to unlimited amounts of music without ads.
The email is consistent with previous hints by the company, including ones made to this site, that the service has plans to launch "in every country" in the future. In January 2011 Spotify's General Manager for Europe, Jonathan Forster, said that he expects the site to go live in more countries during 2011.
Meanwhile, French music site Deezer, which allows users to listen to seven million tracks for free online, announced last week that its combination of free and premium services have increased online music sales in France.
Spotify's release has been long awaited in the States and, until now, the company has been giving access to only a limited number of US fans.
The delay in launching in has been as a result of the US record labels reluctance to provide their back catalogues to Spotify for listeners for free.