Digital Public Infrastructure (DPI) is like the digital ID to rule them all — over people, places & purchases to power a social credit system: perspective
Digital Public Infrastructure (DPI) is a mechanism for surveillance and control that combines digital ID, CBDC, vaccine passports, and carbon footprint tracking data, paving the way for 15-minute smart cities, future lockdowns, and systems of social credit.
On the surface, DPI might seem like something that could benefit the people greatly, and it certainly has the potential to do so.
However, that would require the people to have trust in governments, corporations, and unelected globalists working in lockstep to keep their best interests at heart.
Sold as a mechanism for financial inclusion, convenience, improved healthcare, and green progress, DPI is an all inclusive phrase applied to a looming technocratic governance over people and the "15-minute smart cities" in which they'll live.
The latest G20 India Leaders' Declaration describes DPI as an evolving concept run by public and private entities — the fusion of corporation and state:
These "shared digital systems" include the desire to adopt Central Bank Digital Currencies (CBDCs) on a global scale, as well as establishing a "WHO-managed framework to build a comprehensive digital health ecosystem," that will include vaccine passports, which were already championed by last year's G20 Bali Leaders' Declaration.
In fact, EU Commission President Ursula von der Leyen told the G20 that vaccine passports, aka "digital health certificates," were one example of DPI in action.
On the "financial inclusion" front, the G20 India Leaders' Declaration wholeheartedly welcomes the adoption of programmable CBDCs led by the Bank for International Settlements (BIS) and the International Monetary Fund (IMF), stating:
This year's G20 Leaders' Declaration also rubber-stamped digital ID recommendations that emerged from last month's B20 India Communique, which called for G20 nations to rollout Digital Public Infrastructure as a means to "promote the digitization of identities at the individual, enterprise, and farm levels that are both interoperable and recognized across borders."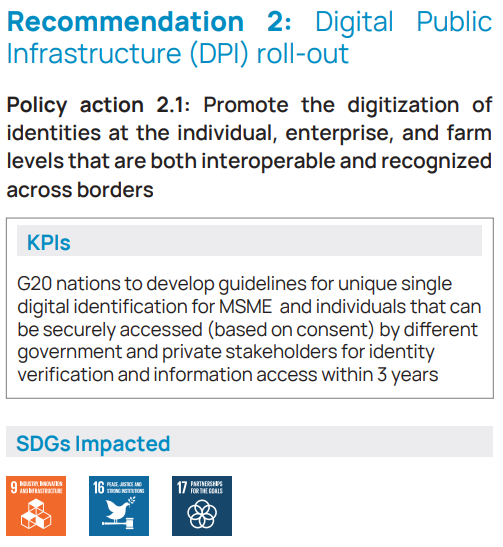 Speaking at the B20 India Summit in August, India's digital identity architect Nandan Nilekani boasted how India had adopted Digital Public Infrastructure at scale and how other nations could follow suit and use DPI for everything from vaccine passports, tax collection, and toll payments to climate adaptation and the move towards a circular economy.
Earlier this year, Nilekani spoke about DPI to the IMF, saying that digital ID, smartphones, and bank accounts were the three "tools of the New World" that everybody should have.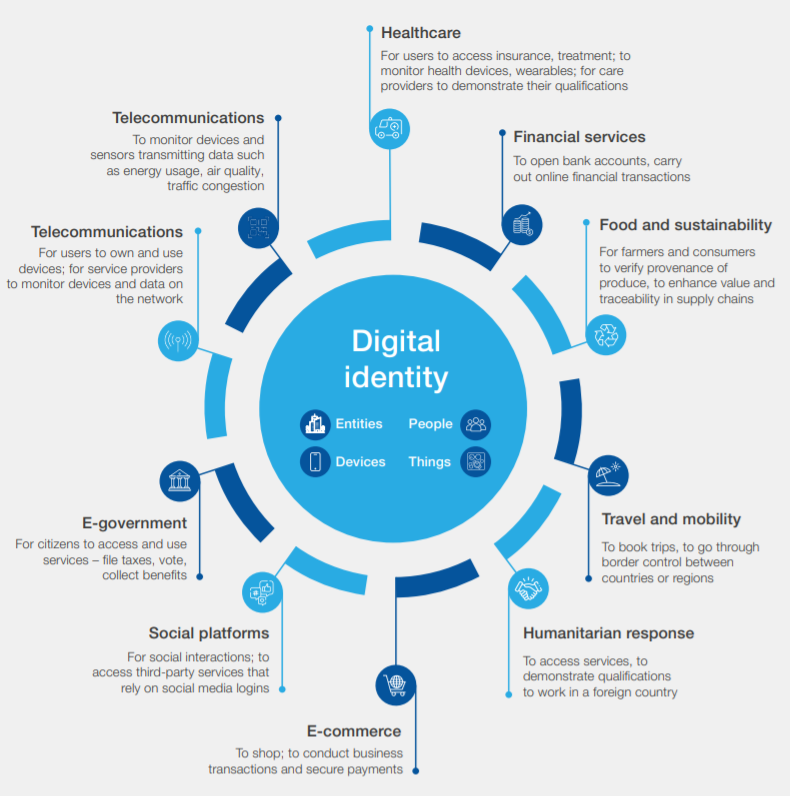 For the unelected globalists, there can be no Digital Public Infrastructure, including CBDC, without digital ID, and there can be no "people-centered smart cities" without DPI.
The World Economic Forum (WEF) envisions digital identity being linked to everything from financial services and healthcare records to travel, mobility, and digital governance — all of which are components of DPI.
Likewise, the United Nations playbook on Digital Public Infrastructure is pushing digital ID as being inseparable from DPI, stating, "Broadly, there are three major types of protocols that facilitate digital public infrastructure: digital identity, digital payments, and data exchange.
"These three protocols are typically required for most digital service transactions such as permitting, issuing licenses, or providing records that often require validating a user's identity, enabling exchange of data across agencies and users, and finally authorizing payments online."
"By prioritizing these three protocols," the UN says that "local governments can set the stage for the successful development of an entire ecosystem of digital services in alignment with their community's unique needs."
With G20 nations committing to net-zero carbon emissions policies by around 2050, many DPI initiatives are geared towards reaching that goal, meaning restrictions will be placed on what we can consume, what we can purchase, and where we can go thanks to the widespread implementation of digital ID and CBDC to track, trace, and control our every move in our people-centered, 15-minute smart cities.
Think individual carbon footprint trackers, Ultra Low Emission Zones (ULEZ), and CBDC programmed by governments to restrict "less desirable" purchases — all of which have been pushed by the unelected globalists at the WEF and elsewhere.
Digital Public Infrastructure is like the digital ID to rule them all — over people, places & purchases in order to power the coming social credit system, along with 15-minute, people-centered smart cities where health and/or climate lockdowns can be mandated whenever governments decide to grant themselves emergency powers for any given "crisis" — real or perceived.
---