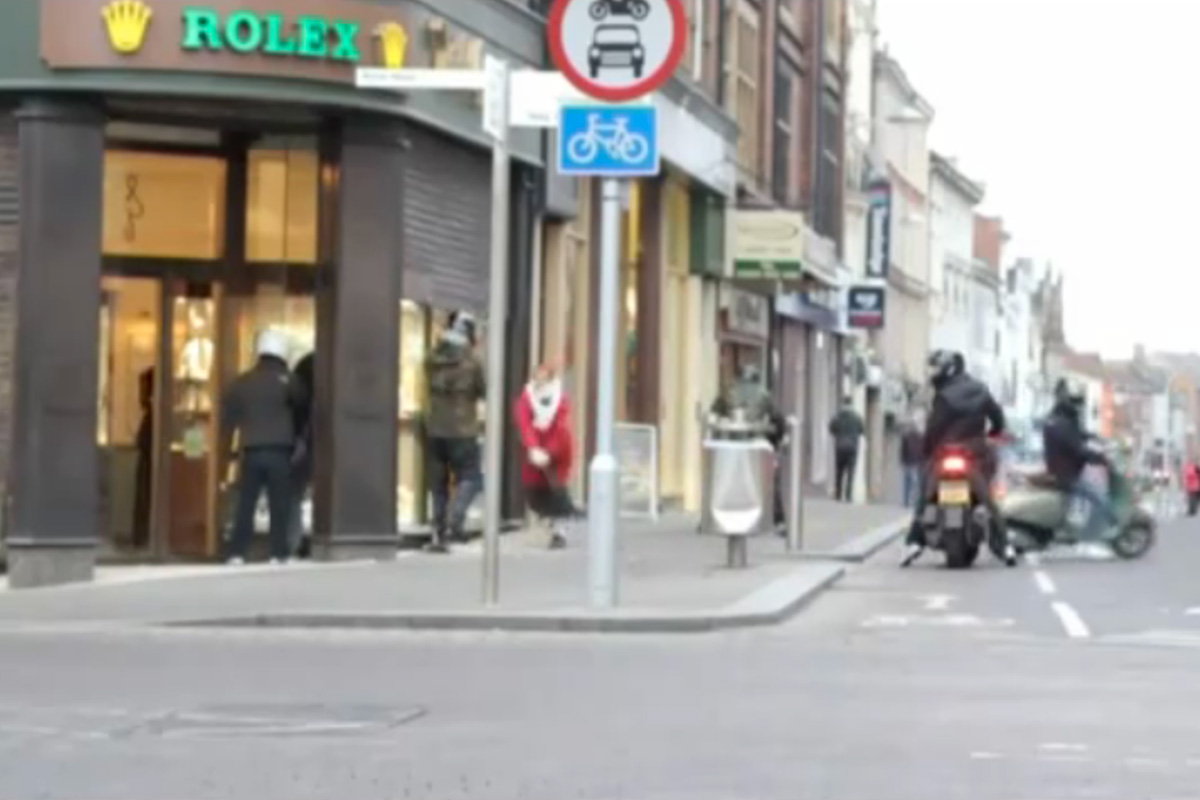 A have-a-go hero granny, Ann Timson, helped foil a gang of bank robbers as they attempted to break into a Northamton Jewellery store in broad daylight yesterday.
In the video the Ms Timson can be seen running across a busy main street towards the thieves as they busily attempt to smash the glass on the Michael Jones Jewellers store front. As she approaches the thieves Timson, who is in her 70s, swings her hand bag at the robbers, eventually dispersing them. But, as they attempt to make their escape one falls from the back of the scooter, he was then held by passers by until the police arrived.
Speaking to Northamton Police, Ann said she was shocked that passers by were just filming the events on their phones rather than coming to the help of her or the shop staff. Ms Timson suffered minor injuries as she fought off the thieves.
"I'd been shopping in the town and was on my way down Gold Street when I met a friend and stopped to have a chat. I became aware of a loud revving noise at the top of the street. I looked over and saw a kid run up to the doorway of the jeweller which is on the corner of Bridge Street. Three lads followed him and when I saw their arms going I thought the kid was being beaten up.

My mother's instinct kicked in and I ran across the road shouting at the lads to stop it.

Only then did I realise that they were smashing glass and that it was a raid. There was a scooter in my path revving up but by now I was in full flight and I started whacking the lads over the head with my shopping bag.

Passers by didn't come to my assistance to begin with. I was amazed at that, but they all seemed mesmerised.

A lot were standing there filming or taking photos and I wonder whether more people didn't intervene because they thought the raid was being mocked up. In the cold light of day, I know I put myself in danger. But I probably would do the same again.

My red coat has now been packed away for the winter and my red hair is being dyed green. And my black shopping bag is having a rest today, to give it time to recover from its bruises!"
Deputy Chief Constable Suzette Davenport praised Ms Timson's civic duty and thanked her on behalf of the UK police force.

<!-comments-button-->