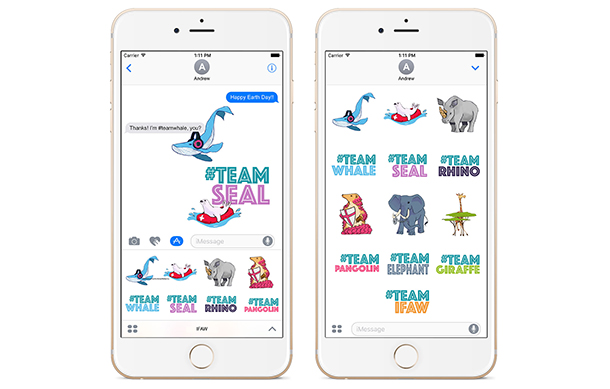 The International Fund for Animal Welfare [IFAW] has teamed up with Bare Tree Media to spread awareness about endangered species using animojis.
By creating animoji stickers featuring animals who are in danger of extinction, or suffer from the decimating effects of illegal poaching, the collaboration hopes to inform and educate users about the dangers these species face on a regular basis.
Kerry Branon, IFAW Communications Manager said of the partnership, "We are excited to partner with Bare Tree Media on our first Animoji release," "These thought-provoking animal emojis provide a fun and accessible way for us to engage with our supporters to share their passion for wildlife protection with their own networks."
The animojis can be downloaded from the App Store and used over a wide variety of messaging platforms such as iMessage, Facebook Messenger, Facebook, WhatsApp, SnapChat, and Twitter.
This means that no matter what your preferred method of conversation, you will be able to help IFAW and Bare Tree spread awareness and hopefully inspire others to work harder to help.
CEO of Bare Tree Media, Robert Ferrari said, "The IFAW Animoji stickers are a new way for IFAW to drive awareness, educate the public, and engage supporters to spread the word through their personal mobile conversations and photo sharing. Our network of messaging platforms has the ability to effectively reach billions of mobile users around the world."
In the initial sticker pack users will find:
an African elephant with a padlock on its tusks to block the unrelenting ivory trade

a whale wearing headphones to protect it from the harmful impacts of ocean noise

a pangolin holding a shield as its only defence to keep its scales

a rhino with a camouflaged horn to hide from poachers

a baby harp seal rescued on a raft as climate change melts the ice it depends on

a giraffe trying to hide behind the trees to safeguard its body parts from trade
IFAW and Bare Tree hope to add more packs in the future. These will be concerned with more specific causes including marine life and wildlife rescue.

In parts of the world, animals are killed and stripped of their skin, organs, and bones which are then sold under the pretense of 'health benefits' for a wide range of ailments. All of which have been proven to be false, but the continuation of this practice is driving them to extinction.

Many people claim to be conscious and passionate about animal conservation but very few actively take part. Similarly, there are people who are aware that some animals are endangered, but they do not understand why or what kinds of factors contribute to this endangerment.

The Animoji sticker packs could potentially change all of this. By utilising it over social-media, it has the chance to reach a more broader audience.

With the amount of time we spend on social media this could prove to be the most effective method of inspiring users to take a genuine interest in animal conservation.

Conservation organisations have been using technology to help preserve wildlife for some time now. But it has been mostly confined within the field and, unless you are already passionate about looking out for our furry [or scaly, or slimy] friends, it is unlikely that this information would reach the masses.

In 2012, the World Wildlife Fund was granted $5 million by Google for its Wildlife Crime Technology Project to tackle the poaching crisis. This included the development of Unmanned Aerial Vehicles (UAVs) for rapid response, as well as digital monitoring systems in high risk poaching areas and at the boundaries of protected areas.

The Wildlife Crime Tech Challenge is an initiative designed to reward innovative technologies to assist in the conflict between poachers and conservationists. The prize money is up to $500,000.

Recently, rangers of Kruger National Park in South Africa have been combating poachers using satellite technology to identify and intercept them before they cause any more damage to the wildlife in the area.

By bringing the issue to the consumer, instead of relying on them to search out their own information, IFAW and Bare Tree could provide even greater support in the fight against species endangerment. Users nowadays love making their points through images, we would rather have a quick look at a picture than read a wordy article with too many grisly details.

In the past, social media has proven to be one of the most effective methods of spreading awareness, it has helped people, so why can't it help animals as well?

<!-comments-button-->