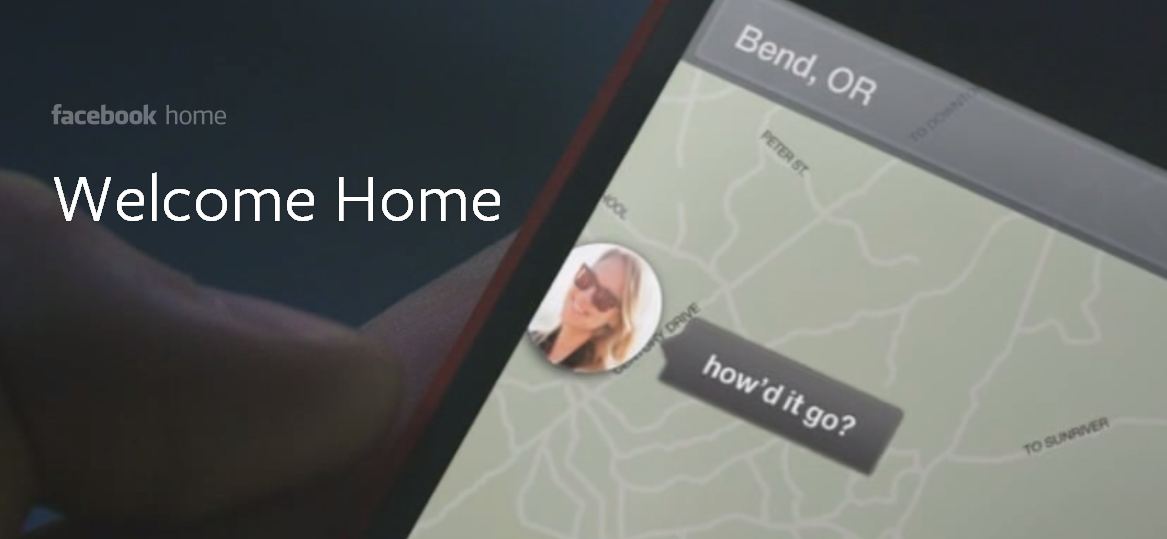 When Facebook issued its press invites last week to see the company's 'New Home on Android' you can forgive us all for thinking that it was going to release its own Amazon-style Android-powered phone.
Instead the company's ambition is much, much larger than that. Facebook doesn't just want to create its own modified version of Android, it wants to modify the version of Android running on everybody's phone.
Facebook Home is an Android app that replaces much of the stock Android features with ones designed by Facebook. Like a squatter in your home Facebook's new app, once downloaded, will spread itself across every part of your smartphone.
If you want to see it in action, head over to the official Facebook Home site.
According to Facebook,
"Home isn't a phone or operating system, and it's also more than just an app. Home is a completely new experience that lets you see the world through people, not apps."
Facebook's logic is this – using apps to contact our friends and family is too restrictive.  Friends shouldn't be walled off in separate apps but should be immediately accessible whenever we access our phones.
Facebook Home acts as theme that sits on top of Android, and replaces much of Android's functionality. The most obvious example of this is 'Cover Feed', which replaces the stock Android lock screen. Cover feed displays your friends' latest images and updates over the lock screen.
"Since Home is both your lock screen and home screen, the content comes right to you. You can flip through to see more stories, and double tap to like what you see.

Cover feed is for those in-between moments ­like waiting in line at the grocery store or between classes ­when you want to see what's going on in your world."
Apart from taking over your lock screen Facebook also wants to take over every other app that you have on your smartphone. A feature that goes by the odd name of "Chat Heads" (seriously, that's what they're calling it?) lets you chat with friends as you use other apps. This isn't new, many IM apps let you do the same, but Facebook's version literally takes over your entire screen.
Chat Heads might be a stupid name but we're sure it'll have the guys at Whatsapp worried.
"When friends send you messages, a chat head appears with your friend's face, so you see exactly who you're chatting with. Messages reach you no matter what you're doing – whether you're checking email, browsing the web, or listening to music."
Android users will be used to receiving notifications in the black bar at the top of their screen. But, as with Chat Head, Notifications will take over your screen, so there's no way that you can miss any minor update a friend posts to your call.

Facebook Home also goes as far as taking over the stock Android app launcher, meaning there's no part of your phone that it doesn't control.

According to Facebook the app will work on the latest Android handsets (HTC One X, HTC One X+, Samsung GALAXY S III and Samsung GALAXY Note II, HTC One, and Samsung GALAXY S4). It'll be available for download from the Google Play Store on April 12 and will come pre-installed on some Android phones.

Objectively, Facebook Home is a great idea. Rather than building an app that locks your contacts into a small icon Facebook has taken the open-access ethos of Android and injected its own systems and services where it could.

This app really does turn your phone into a social service, it works around the limited screen space of a smartphone to deliver an experience that is truly social. It's a great idea that others are bound to copy. But we won't be downloading it.

Facebook Home, as with almost everything else that Facebook does, comes with significant privacy issues. If Facebook is embedding itself in so much of your phone, how much information is it gathering about what you do, where you go, and who you talk to?

It's also a sign of the competition Google+ is bringing to the social sphere. This is Facebook's response to Google+'s enviable position on Android.

But neither Google nor Google+ will be the big losers if Home is a success. The big loser will be Apple. I'll take a safe bet and say that Cupertino will never allow Facebook to make such significant changes to its operating system. Facebook home can only exist as an Android app, and if users really want to use it, then they're going to have to opt for Goolge's mobile OS rather than Apple's.

The question is, do people want Facebook Home?

<!-comments-button-->