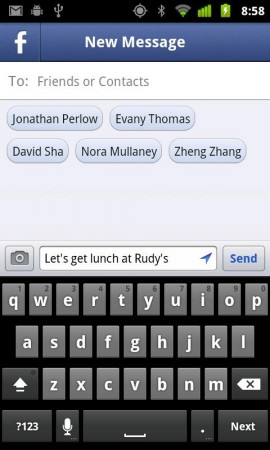 Facebook Messenger, Facebook's standalone messaging app, is now available to download in Ireland and the UK – a little over one month after it was initially released in the United States.
It would appear, however, that the app isn't yet available to other countries on mainland Europe, like France, Germany, Italy and Spain.
Facebook Messenger is available for the iPhone, iPod Touch and iPad, as well as Android version 2.2 and above. The app itself is very simply but looks and functions well. Users can message friends individually or by group, can attach photos and share location information. Users receive push-notifications whenever a new message is available to read, with options to turn alerts off for one hour or overnight.
As with standard Facebook Messages functionality, messages sent using Facebook Messenger are delivered depending on the availability of the recipient – messages are received via Facebook Chat if the user is online, or via Facebook Messages or SMS if the user is offline.
The app only lets you message friends that are on Facebook and, unfortunately, doesn't synchronise with existing phone contacts to deliver messages via SMS.