When planning a road trip, a map can be a powerful ally, but you can't have a conversation with a map to find out about road closures, construction, or other delays along the way.
In order to get real-time information about conditions on the road, you need to get it from people who are actually there. Receiving first-hand accounts about what sort of traffic to expect on your next road trip can help you better plan the most effective route from start to finish.
Described by the BBC as "one of the world's most successful apps," GPS leader Sygic launched its real-time location and route-sharing feature through a partnership with Glympse — a location sharing technology pioneer.
Read More: Sygic launches 1st 360° travel VR app in Oculus Store
Sygic's GPS app allows people to share information about their real-time location and movements. Users can provide in-depth details in just a few taps — explaining the route they are taking, their current location, ETA (expected time of arrival) and more. This helps people to easily communicate travel plans and updates, explaining exactly where they are and what is happening on the road around them.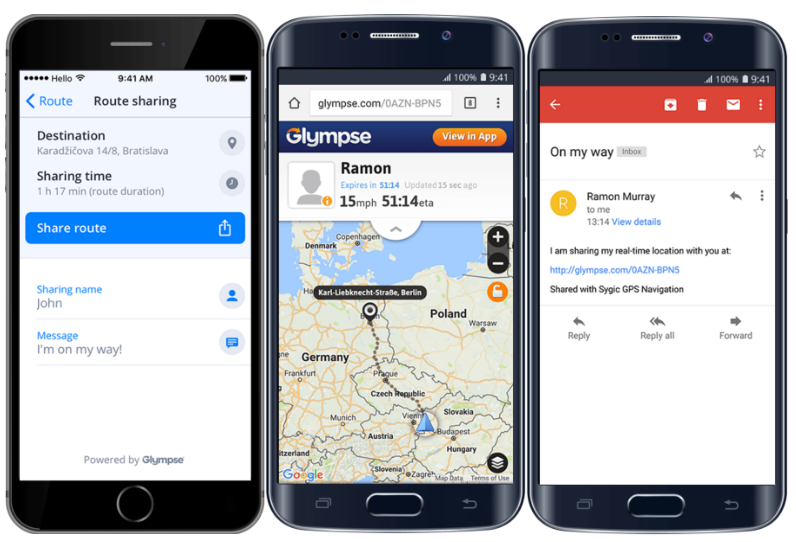 "Sharing of location is such a key component in the connected mobility space," said Bryan Trussel, co-founder and CEO of Glympse. "Partnering with innovative companies like Sygic, allows us an opportunity to provide more robust navigation experiences, bringing real-time location information for drivers around the globe."
According to Pew Research, 67% of smartphone owners use their cellphones to access navigation instructions while driving. While most major map applications allow users to share static information, for example their point of location, they do not provide the capability to communicate real-time movement, in the way that a person would track a delivery or an Uber.
This is why communicating with real people in real-time can help people choose the best routes and the best times to plan a road trip.
"Sygic is dedicated to providing cutting-edge GPS navigation to our customers," said Sygic's founder and CEO Michal Štencl. "Our latest integration with Glympse puts us at the forefront of this technology, enhancing our app with intuitive location tools that help people to communicate their travel plans more easily."
Read More: World's most advanced GPS app enlists VR tech for travel planning
Sygic GPS Navigation is available on iPhone, Android and Windows, and the GPS leader is currently offering a Black Friday discount of 70%, providing new users a lifetime premium license of the app from just $16.99 USD.