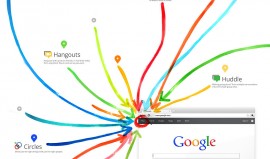 Google+ is currently in private beta, with users only able to access the social network after receiving an invite.
View the results of this poll here.
Some users have reported that they have been able to sign up to the site faster if they used a number of other Google products. We want to know if this is true.
Tell us what Google products you used before signing up to Google+ and we'll see if there is a pattern.

[Update: 2011/July/07]
Results: Being a Google Fanbody doesn't help you sign up to Google+ sooner (so says our straw poll)
In our completely unscientific, not statistically significant, straw poll of 42 Google+ invitees (those who got access to the site and those who are still locked out) it seems that begin a Google Fanboy (such as ourselves) does not help you get access to Google+ sooner.
We conducted the poll, above, to see if the rumors which suggested that subscribing to multiple Google services (such as Gmail, YouTube, Google Profile, etc) helped users gain access to Google+ were true.
In the poll people who said they frequently used Google services were no more likely to gain access to Google+ than those who said they never or infrequently used Google's other services.
One frequent suggestion going around the web suggested that if you had a Google Profile you were more likely to get access to the social network sooner. Just under 50% of respondents who had a Google Profile got immediate access to Google+. But a similar percentage of people who have not been able to access Google+ since being invited also have a Google profile.
It also seems that knowing the person who invited you doesn't help in getting access sooner
One Google+ invitee who did get access to the site said, "I've had invites appear the other end up to 27 hours late and others appear instantly (users would have v similar profiles in terms of products used). I'd imagine it's a bottleneck issue rather than correlated to tools (Google close the doors based on engineers available to monitor performance, I've a contact that worked in the team up until a week ago), so this is the over-riding issue for invites."
This user's sentiments would seem to match those of Google+ engineer Dave Besbris who said, speaking to CNET, that they are closely controlling the Google+ population.
Interestingly, one user was able to sign up to the site without getting an invite at all, "I didn't actually get an invite. I went to their main page and was able to sign up directly." I think we are all legitimately allowed to dislike this person.
Click here to view the results in full screen. Use the dropdown menus to cross reference the results.

Click here to view the results in full screen.