Google has officially launched its +1 Button browser extension for Chrome. The extension appeared in the Chrome Web Store today described as a way "you can publicly +1 any page that you're visiting with one easy click."
The release comes the same day that Google announced that +1's will influence PageRank.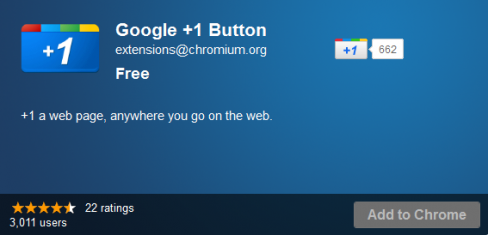 We knew for a long time that the extension was in the works, as early as May a television ad aired by Google in the United States actually leaked the extension.
The Chrome extension has been downloaded over 3,000 times in the past two hours (and itself has already been +1'd over 660 times), although users are criticising the it for not sharing +1's on Google Circles profiles.
One commenter said, "I wish this had the ability to share to Google+ like the +1 button on sites has. Other than that, the extension is nice!" while another said "I love the count, but sharing integration would be awesome. For now I'm sticking with https://chrome.google.com/webstore/detail/ppjihganhojelngokopdocghcngoapfd – but add sharing and I'll switch!"
Pre-empting privacy fears Google says of the +1 button, "Google doesn't keep a persistent record of your browsing history as part of the process of showing you a +1 button or otherwise use the fact that you personally have visited a page with the +1 button. Google may keep some information about your visit, usually for about two weeks, to maintain and debug its systems."