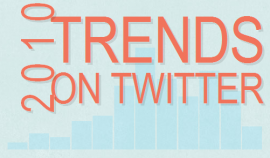 Justin Bieber just about managed to beat Paul, the Magic Octopus, to be the most tweeted celebrity of 2010 according to Twtter's list of the top tweets of 2010.
The annual list, which was released today, aggregates the most montioned events celebrities and topics on Twitter over the past year.
Reflecting the social network's male-centric audience, the top 10 tweets of 2010 include trends for "FIFA World Cup", Vuvuzela, "Pulpo Paul" (the talking octopus) and Inception. For the nerds in the audience Apple iPad, Google Android and "Harry Potter & the Deathly Hallows" also did well. "Haiti Earthquake" was the most tweeted world event, save for the World Cup, while Justin Bieber was the most tweeted celebrity.
The mention nearest Ireland get in the top tweets for 2010 at number 5 in the Sports category with the term "Celtics." Although this is a reference to the Boston Celtics Basketball team it postion was probably helped by the Scottish Football club.
The full lists, by category, are,