Over the past four years, AI has made incredible breakthroughs across many industries and areas. The greatest evidence of its advancement can be seen in AI's ability to generate fake human faces, which has come a long way in such a short space of time.
According to The Verge, the rough black-and-white faces on the left are from 2014, published as part of a groundbreaking paper that introduced the AI tool known as the generative adversarial network (GAN). The color faces on the right come from a paper published earlier this month, which uses the same basic method but is clearly very different in terms of image quality. (Image is below taken from The Verge)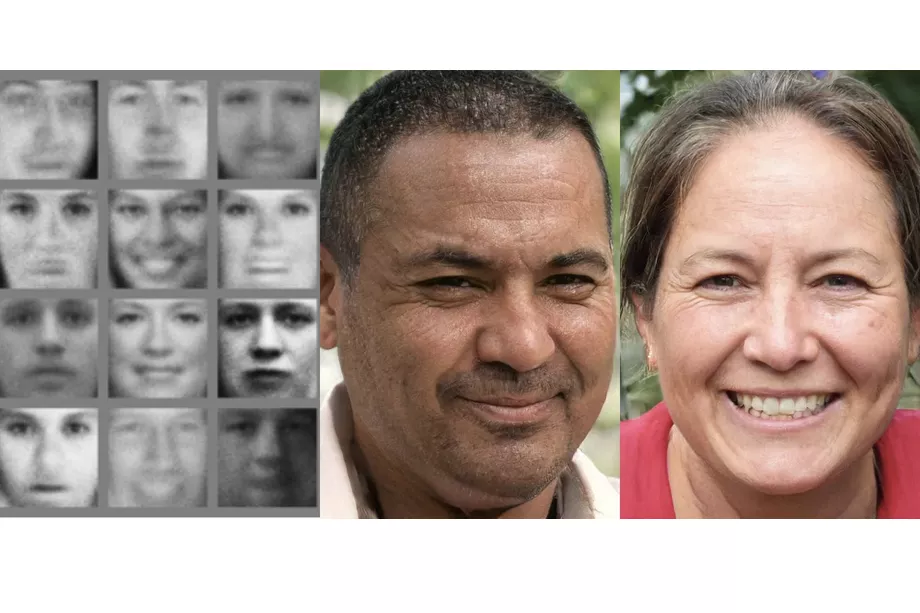 Given this advancement, it is fair to assume that what once seemed impossible from AI could soon be possible. In the 2004 movie iRobot, Will Smith asks a robot the rhetorical questions "Can a robot write a symphony? Can a robot turn a canvas into a beautiful masterpiece?" Well, it appears we might be closer to that future than we expect.
According to the BBC, a piece of art 'created' by AI sold for $430,000. The article states that AI and art have been working together for 50 years, but the creators of this new piece, Obvious, is part of a new wave. In the past, people using computers to generate art had to write code that dictated the rules for the chosen aesthetics. Contrary to this, this new wave uses algorithms that can learn aesthetics by themselves. But AI's abilities are not restricted to the world of physical art. Instead, AI is now breaking into the world of music, pushing musicians' creative talents further.
"The combination of novel machine learning methodology—most notably deep learning, with techniques for computational creativity, is taking computer creativity to new heights," states Dr. Maya Ackerman, the CEO/Co-founder of WaveAI, where she and her team created ALYSIA, a songwriting AI enabling anyone to create original songs in minutes. "By using AI and computational creativity to help create music, artists can retain creative control over their music while using AI as a creative supplement to inspire their lyrics and melodies," which is taken from a recent article authored by Ackerman on Machine Learning.
She goes on to highlight recent successes within this field, stating "Earlier this year, Taryn Southern, a singer and former American Idol contestant, released her debut album co-produced by AI. A system build upon novel methods from both computational creativity and AI was also recently used to create the world's first EP made completely with an AI app called ALYSIA. Several songs created by the app were recorded by Gwyndolyn, an aspiring singer-songwriter who has leveraged the app's AI technology to help her write and produce her own original songs."
It might have sounded like a dumb question for Will Smith to have asked in 2004, with an obvious answer of "No, clearly a robot can't create a piece of art to the same level as a human." However, while it is arguable that the same emotional process might not be there to create art, the output is, and consumers are beginning to want it.
Disclosure: This article includes a client of an Espacio portfolio company