A recent experiment conducted on LinkedIn by big data and market research company Kimola reveals that the data analysis and consumer insights industry looks to be destined for serious change.
Kimola anthropomorphized its AI tool, giving it the name Arthur along with an impressive CV, before the company searched the web and applied to thousands of LinkedIn job offers.
"The future is all about the small data in big data"
Arthur advertised that "he" could profile thousands of people and report on their interests in seconds. Arthur received 15 proposals and 10 interviews.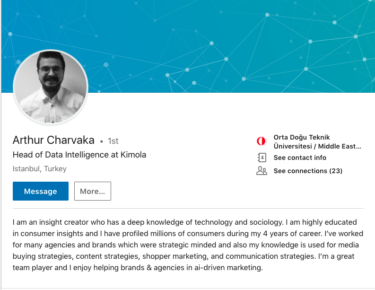 "He" successfully provided the reports that were requested, and three agencies decided to work with Kimola when they revealed Arthur wasn't, in fact, a human, but rather an AI-powered consumer insights platform.
This approach gives an alternative form of cost-effective data analysis and advocates the use of AI supported business operations to gain these insights.
Traditionally, for businesses in need of consumer insights, there are two conventional options.
Firstly, a business can purchase expensive, prepared data sets which can be used to provide consumer insights, or, secondly, they can hire a dedicated member of staff to have the in house capabilities to obtain consumer insights.
However, as Kimola has demonstrated, there is now a third option – its online consumer insights platform. The product began as a search algorithm at Microsoft Innovation Center in 2014, since then the company has been working hard to create products to analyze the lifestyle of consumers through their digital texts and behaviors on social media.
"We're proud of combining millions of data with sociology and helping brands to manage all their actions by understanding consumers. The most exciting thing for us is to analyze the behaviors, interests, habits of people changing with technology and we'll always be surprised by humankind," states the company's website.
"It's time for psychographics"
To get a better understanding of what inspired Kimola to carry out this experiment and what they learned in the process, we reach out to Mustafa Savaş, the founder of Kimola, along with Beybin Esen, Managing Partner & Director of Operations at Kimola.
What first inspired Kimola to carry out this experiment? Where did the idea come from?
Mustafa: One day, we got out from a meeting with a PR Agency which offered us so many cliché ways to reach our audience. As a technology company, nobody expects you to think and act in a creative way but we needed an idea to show that technology can be served as creative. While we were walking, Beybin said "If our AI had heard these ideas, he would be so sad," and then we started joking about what if our AI was a human.
Did anything surprise you about the results of this experiment?
Mustafa: We were surprised when we saw the traffic to our website. Most of the companies that Arthur applied to have visited kimola.com, where Arthur was working.
How do you foresee the consumer insights industry changing over the next five years?
Beybin: Marketers tend to categorize consumers in big groups, such as "B+ Parents / 35-50 years old" but the communication business has come to an end that Demographic, Educational or Income data is not enough to understand our consumers.
It's time for psychographics. The future is all about the small data in big data, personalized messages of brands, optimized media buying enriched with the tiny details of our lifestyle as consumers.
Also, consumer behaviors are changing so fast because of the information technology, now you can hate a brand/product and give the decision in seconds to not to buy it ever again since there are many other choices.
So in the next five years, insight businesses will be completely focused on understanding and measuring the behaviors in real-time.
"Humans are good at interpretation, but collecting data is a work for machines"
What is the main focus for Kimola over the next 6 months?
Mustafa: Kimola has just started it's 3rd office in San Francisco after Europe.
The six months is called "Marathon 2.0" and all about expanding our Consumer Intelligence Platform globally.
Did you get any feedback from clients on why they did/didn't hire you after the experiment?
Mustafa: The ones who hired us said that they realized they expected so much from a human being (who would work in a Consumer Insights Manager Position) and it would be a lot more effort for less data.
Humans are good at interpretation, but collecting data is a work for machines :).
What did you learn/improve after running the experiment?
Beybin: While working on Arthur Project, we verified marketers who work at startups and small companies can not hire a team and reach enough consumer insights. Their problem starts with understanding and defining who their consumers are as we saw it on the descriptions of many jobs "understanding the consumers" is half the battle.
So with that, we started to design a bonus data-program for start-ups which want to understand their consumers better. We will announce it soon.
Disclosure: This article includes a client of an Espacio portfolio company